Some 50 years after Méhari appeared on the scene in May 1968, two visionary french brands teamed up on an exciting project, the Citroën e-Mehari by Courrèges concept car. The concept is based on Citroën e-Mehari, unveiled in December 2015, a car inspired by its no less revolutionary forebear. Citroën e-Mehari is an all-electric four-seater cabriolet. It's fun, modern, environment-friendly, and eminently true to the values of creativity, freedom and optimism that Citroën has been advancing since nearly a century ago.
With this project, both partners are expressing a desire to invent new designs, using materials of tomorrow to come up with works that combine outstanding beauty with practical usability. It's a quest for modernity, for a radical departure from classic norms, but firmly rooted in real life as it is lived, with a touch of sportslike elation and a strong sense of poetry. The partnership would yield a concept car abounding in energy, bathed in light, open to the world outside, and powered by an innovative lithium metal polymer battery.
Citroën e-Mehari is an electric car with strong personality traits of fun, freshness and colour. Because it was designed from the outset to be inherently fashionable, Citroën had no difficulty giving Courrèges complete freedom to deliver its own interpretation of the car. The result is Citroën e-Mehari styled by Courrèges concept car, with its play of colours and materials focused on the colour White, true to both Méhari spirit and the inimitable Courrèges style.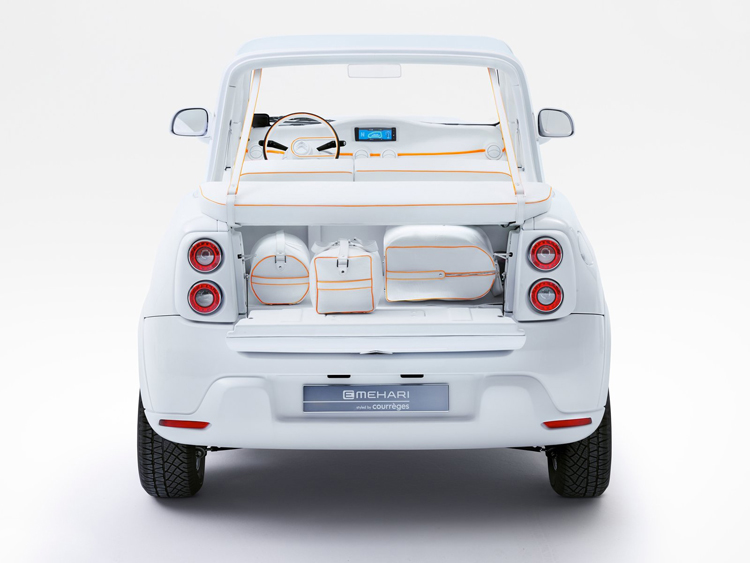 Citroën e-Mehari styled by Courrèges keeps e-Mehari door motif, with its grooves harking back affectionately to the corrugated bodywork of original Méhari. It's clothed as if in a sumptuous White dress. Not only the body is in white, but the four wheels are too. There's just a strip in bright orange, for contrast, starting from nothing at the wheels to come and underscore the design of the central safety hoop. The rear hoop is replaced by two side straps, to free up even more space.
For the ultimate in comfort and exclusive refinement, the interior features door linings in luxurious white leather, and the dashboard and seats in the back, take on deliberately square architectural shapes. The colour bright orange reappears in the form of an exuberant vinyl trim running across the dashboard and along the characteristically shaped air vents. The white/bright orange combination is also seen on the door handles. The single-spoke, monochrome steering wheel is highly original, as is the leather-lined floor with its White mats.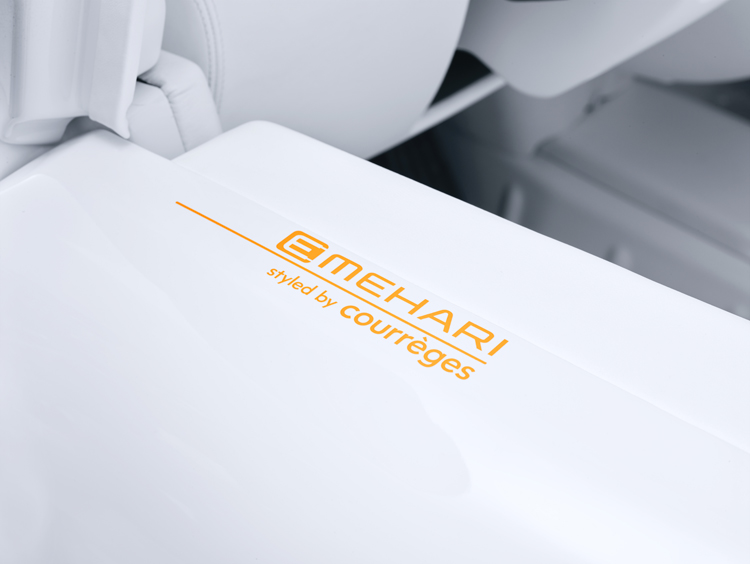 The charismatic style of Citroën e-Mehari styled by Courrèges in no way lessens the practicality or playfulness inherent to Citroën e-Mehari. The car has four full-size, high-standing seats, a plexiglas roof with frosted finish opening wide to the outside world. A rear flap for accessing the boot area opens on an exclusive line of luggages, including 3 models made of White leather and bright Orange vinyl trim in complete harmony with the vehicle.
Citroën e-Mehari styled by Courrèges concept car harnesses e-Mehari all-electric technology using lithium metal polymer batteries. Top speed reaches 68 and urban-cycle vehicle range 124 miles. The Citroën e-Mehari styled by Courrèges concept car will be unveiled at 2016 Geneva Motor Show.
all images courtesy of Citroën
Comments
comments