Iconic British car maker Morgan Motors has unveiled the EV3,  an all-electric 3 Wheeler with a range of 150 mile, that weighs less than 500 kg. 
Early indications suggest a minimum 0-62mph time of less than 9 seconds and a top speed in excess of 90mph. Encased within the tubular space frame chassis is a 20KWh Lithium Battery and a liquid cooled 46kW motor driving the rear wheel.
The EV3 is the first Morgan vehicle to utilise composite carbon panels in its body construction. The carbon bonnet, tonneau cover and side pods are made in the UK, and much like the remaining aluminium panels, are hand worked over an ash wood frame. Taking inspiration from 1930's aero-engine race cars, classic motorcycles and 1950's fantasy automatons, the face of the EV3 is designed to function. Brass conductive cooling fins encase the batteries and an off-centre tri-bar headlight adds to the overall asymmetry of the design.
The dramatic tail lift once seen on 1930's Morgan 3 Wheeler race cars, has been re-introduced, subsequently creating a visually forward stance. This is enhanced with low slung running lights that carry through the cylindrical form of the side pods. An entirely new dashboard arrangement features a classic 'magneto' switch for drive selection, a digital screen, wood, brass and polished aluminium.
The Morgan EV3 will go into production in the fourth quarter of 2016 and will be priced comparably to the petrol 3 Wheeler.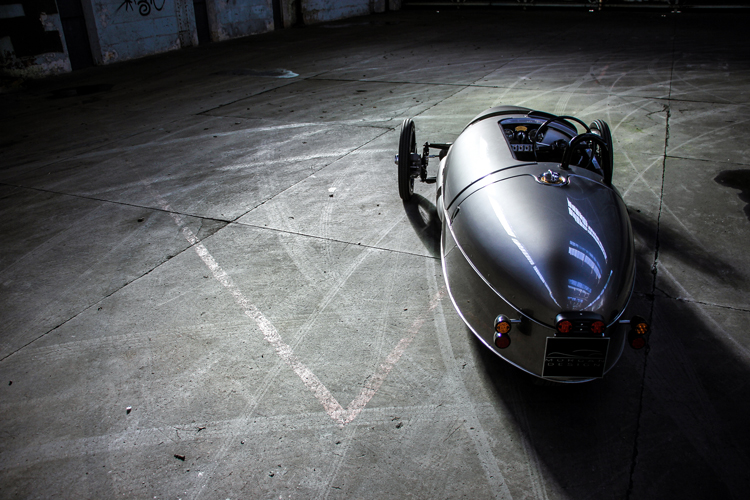 all images and video courtesy of Morgan Motors
Comments
comments