Mokumono Cycles has announced the launch of its Kickstarter campaign for Mokumono, a city bike that revives the Dutch tradition of local production. The Netherlands has a rich history of bicycle manufacturing but in an attempt to reduce costs, most bike manufacturers moved production to cheap labor countries, mostly in Southeast Asia.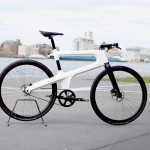 Bob Schiller, founder of Mokumono, thinks it is a shame that a nation so known for its bicycles buys most of their bicycles from foreign manufacturers. He believes that it is time to bring bicycle production back to The Netherlands. Mokumono's innovative production process allows a revival of the vanishing tradition of Dutch of bicycle manufacturing.
Inspired by the way cars are produced, Mokumono frames are made of two sheets of aluminum pressed into form and laser welded together. The European car industry has managed to retain production in several European countries by adapting techniques that lend themselves easily towards automation.
"By borrowing these techniques," explains Schiller, "we are able to highly automate production process, significantly lowering labor costs and thus making it possible to build bicycles in The Netherland again."
The production techniques are reflected in the design of the strong and lightweight frame. The high edge on the outline of the frame visually splits it in halve and reflects the way it is built. With the choice of components Mokumono relies on the best products available. The company started a kickstarter campaign with plans to begin shipping worldwide in December 2016.
all images courtesy of Mokumono Cycles | video courtesy of Gilles van Leeuwen
Comments
comments