Mini of Italy has created a concept based on the Clubman All4 that takes inspiration from BMW's own R nineT Scrambler. The term scrambler comes from the English verb "to scramble" which means to mix. In the motorcycle field indicates a street bike to which minor changes to make it suitable to tackle dirt paths or short off-road have been made.
Mini All4 Scrambler means, four-wheel drive according Mini able to guarantee maximum control in all conditions, maximum efficiency and, at the same time, sportsmanship.
The color of the car paint has been customized specifically with an opaque tint of motorcycle-derived, Midnight All4 Frozen Grey, recalling the color of the tank of the BMW R nineT Scrambler and accentuates the design of the MiniClubman, emphasizing, for example, power dome on the hood. The extreme attention to detail is also noticeable that the Frozen Grey paint is accented by details in satin silver, characteristic BMW R nineT Scrambler, such as handles, frame the window and insert the grille.
The interior of the Mini Clubman All4 Scrambler see the coexistence of two very valuable and iconic material: Nappa leather and Alcantara, perfectly matched to ensure maximum comfort and maximum durability.
Clubman Mini All4 Scrambler is exposed these days at the Motor Show in Valentino Park, an event that is one of the Italian celebrations for the centenary of the Group and for the Fiftieth Anniversary of BMW in Italy.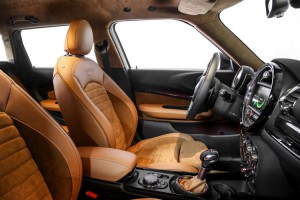 all images courtesy of Mini
Comments
comments