The Cyclotron is an all new bicycle like nothing else on the market. After 3 years of extensive stealth development and testing, the Cyclotron has finally made its public debut. The result is a bike that makes all regular bicycles appear like relics from a nostalgic past, allowing the Cyclotron to officially stake its claim in the world as "The Future of Cycling."
"All areas of our life are progressing and evolving very fast, new inventions appear literally every day, outdating the ones from yesterday. But looking at bicycles, they haven't evolved with nearly comparable speed within the last decades," says Sina, Head of Design, "I wanted to create the perfect 'Two Wheel Vehicle' that overcomes these weaknesses and combines the world's most advanced technology with uncompromised quality & art."
The Cyclotron features a revolutionary design and functionality that promises to enable riders to reach their goals in an unsurpassed fashion. Closing in on more than 15 patents, the Cyclotron is innovative power at its best. The Cyclotron is equipped with spoke-less wheels and is the first commercially available bike using this technology. The bike is also stocked with an electronic e-gear box chainless drive drain allowing for incredibly fast shifts.
Driving the Cyclotron at night toggles the automatic light sensor that switches on/off depending on the currently daylight situation. It is officially the world's most advanced lighting concept which allows riders to tremendously enhance their visibility while riding in traffic or on roads with no public street lighting. The Cyclotron is equipped with dual halo led wheels and a bike laser lane projector which illuminates the ground on the path of the rider. The self charging Li-Ion Battery Pack powers the Cyclotrons lights for more than 8 hours without engaging the internal dynamo. The effecting result is straight out of a futuristic Sci-Fi movie. Visually stunning and sleek, the Cyclotron produces an impressive effect that is not only beautiful but ensures the safest ride on the market.
If that's not enough, the Cyclotron has been equipped with a powerful app and bluetooth low energy sensors. The app allows for real-time cycling data of every ride, in-app navigation, track & train software, autonomous accident and emergency reporting service, and theft prevention and GPS Bike Finder.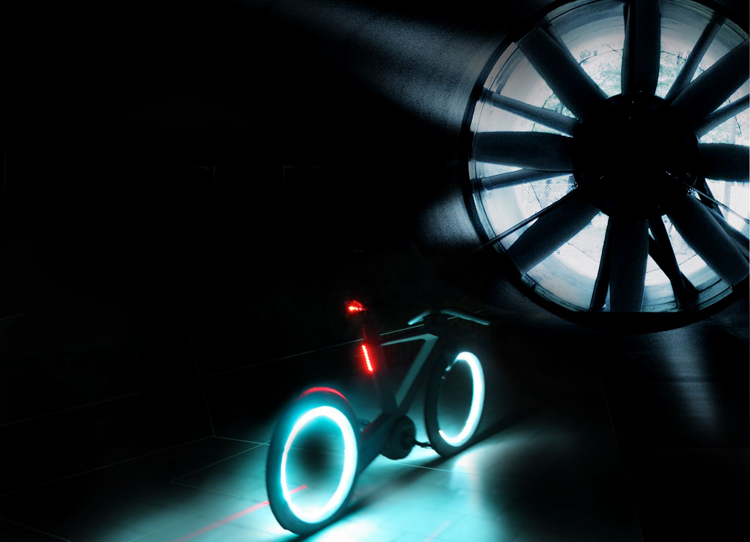 The Cyclotron is manufactured from Space Grade Carbon Fiber Composite, making the bike rigid, stiff, and ultra lightweight, staking the claim as the world's lightest gearbox bike. The aero frame and fully integrated system means no cables, wires, or external components. The final design stands out for its clean, modern, and minimalist look.
Backers will need to pay $993 USD for the 12-speed bike and anywhere between $1,450 USD and $2,875 USD for an 18-speed model, with bikes expected to be delivered by June 2017. Head over to its Kickstarter page to support.
all images and video courtesy of Cyclotron
Comments
comments