Nissan has unveiled the Vmotion 2.0, a new concept vehicle that sets the company's future sedan design direction and intelligent mobility technology  at the 2017 North American International Auto Show (NAIAS).
The Nissan Vmotion 2.0 concept's dramatic silhouette is characterized by a "floating roof," with a line flowing seamlessly from the steeply raked A-pillars to the trunk lip. An extended wheelbase shows off the car's generous cabin, while the distinctive body surface is defined by Nissan's "Emotional Geometry" design language. The dynamic high-tension body is crafted in a warm silver paint with copper undertones. With a layered effect for the paint finish, a glimpse of the body at different angles reveals a subtle but different hue.
Providing hints at the future of "Nissan Intelligent Mobility" – Nissan's roadmap to achieve zero emissions and zero fatalities – the lighting around the front Nissan emblem glows to indicate when the vehicle is in ProPILOT mode, which is envisioned to provide autonomous driving support technology on urban roads and at intersections. Wrap-around rear glass and the floating C-pillar also provide an impression of intelligent and efficient aerodynamics.
The rear of the vehicle exudes class and strength. The signature boomerang-style taillights emphasize the width of the vehicle. Similar to the grille, the rear diffuser glows when the car operates in ProPILOT mode.
Inside the dashboard continues the "Gliding Wing" design theme, which integrates the instrument panel and infotainment system for both the driver and passenger. The single continuous horizontal display integrates the ProPILOT graphic user interface (GUI). For rear-seat passengers, the center console features a smaller screen, which can serve as an extension of the main display.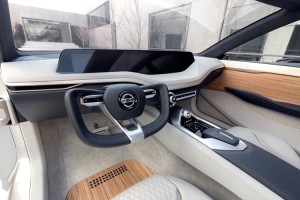 Seats are comfortable and supportive, upholstered in supple leather with a unique threadless quilting on the inserts that gives the look of an exquisite handbag. The steering wheel is designed to allow the driver and passenger to clearly see all the display infotainment without any interruption, enhancing a seamless GUI experience. Thanks to its unique design, the cabin provides the driver and passenger supreme comfort when the car is in ProPILOT mode.
The center console's simple layout includes a multi-functional touchpad to operate the infotainment system. The surface materials throughout the interior convey luxury and sophistication, including natural Zebra Wood applied on the floor and on the inner doors.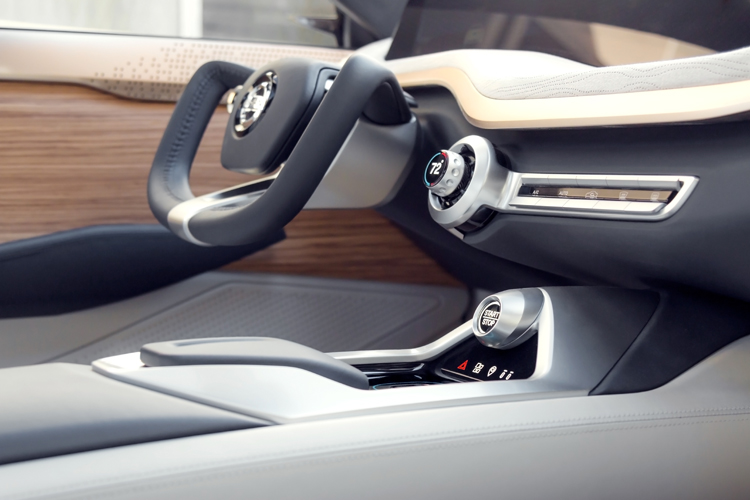 all images and video courtesy of Nissan
Comments
comments