Briggs Automotive Company (BAC) has teamed up with Autodesk to create a brand new Mono Art Car. Autodesk makes software for the automotive, architecture, engineering, construction, manufacturing, media, and entertainment industries, and its CFD software was used to develop elements of the Mono supercar.
The design of the paint-scheme was inspired by Autodesk simulation tools, especially its CFD software– essentially a virtual wind tunnel that allows designers to visualize airflow over a 3D model. The resulting livery shows the results and provides Mono with one of the most intricate designs to have left the Liverpool factory.
BAC Co-Founder and Design Director, Ian Briggs, said: "Good design is at the heart of Mono and is paramount in everything we do at BAC. Having worked with Autodesk for many years, it is a pleasure to create something as beautiful as this Art Car. Not only is it one of the most striking and intricate Mono colour schemes we have ever created, it also shows the intelligent design of Mono and how we use Autodesk software to help create the perfect car." He added: "Mono fans will be able to see the car at the Goodwood and we can't wait to show people how good the car looks."
"Autodesk has worked with BAC since 2015, providing manufacturing expertise on various elements of the Mono, and we are looking forward to continuing the relationship in future BAC-led vehicle optimisation projects," said Greg Fallon, vice president of simulation at Autodesk. "The Mono is one of a kind, which fits with our mission and vision: we don't follow – we work to help our customers innovate and disrupt their industries in new and exciting ways.
This is the first time a car's aerodynamic simulation has been visually represented across its body. It joins a host of other firsts developed by BAC. The Mono is the only car in the world to use Graphene on a road car, it was also the first to feature revolutionary carbon-hybrid road wheels. These innovations helped Mono to be crowned as the fastest car ever tested by EVO magazine around the Anglesey circuit and it remains the fastest road legal car to have set a lap record around the Top Gear test track.
The Mono Art Car will be displayed at the Autodesk Advanced Manufacturing Facility in Birmingham but first it will take pride of place on the BAC stand at the 2017 Goodwood Festival of Speed.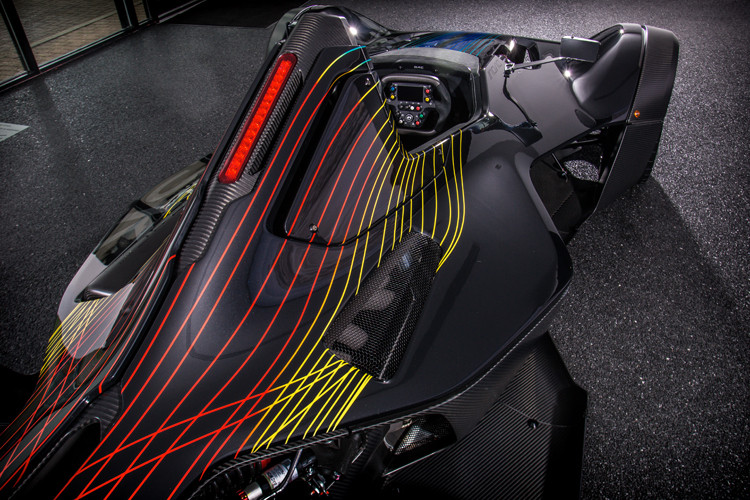 all images courtesy of Briggs Automotive Company
Comments
comments