Porsche has taken the wraps off its new 2019 Cayenne. The new 2019 Porsche Cayenne is more athletic both in appearance and driving performance due to new styling cues and engineering developments. In line with its modern exterior, the interior carries many of the same design cues and new technologies that made their debut on the 2017 Porsche Panamera.
Porsche will offer two models at launch: the Cayenne and Cayenne S. Both are powered by turbocharged six-cylinder engines. The Cayenne generates 340 horsepower and 332 pound-feet of torque from a 3.0-liter single-turbo V6, propelling the beast, Porsche claims, from 0-60 miles per hour in as little as 5.6 seconds. The quarter mile is vanquished in 14.2 seconds, and the Cayenne moves on to a top speed of 152 mph.
The S uses a 2.9-liter twin-turbo V6 unit to make 440 horsepower and 406 pound-feet of torque. That's good for a 4.6-second 0-60 time, and a top speed of 164 mph. Porsche says the quarter-mile time is 13.2 seconds.
Exclusive to the Cayenne is a trick brake system called the Porsche Surface Coated Brake — also known as PSCB. An option on all Cayenne models with 20- and 21-inch wheels, the PSCB is a cast-iron disc coated with tungsten carbide. Friction values, and thus braking performance, are increased while reducing wear and brake dust. It's meant to be an intermediate step between the standard disc brakes and the top-of-the-line carbon-ceramic brakes that are also available.
The new Cayenne retains a strong visual connection to its predecessors. At the same time, it adopts new design elements that hint at how this generation builds upon its predecessors. New horizontal light edges create a wider, more athletic appearance as do enlarged air intakes in the front fascia. The rear fascia features a new three-dimensional LED light design that features the Porsche logo spanning the width of the vehicle through a narrow strip of lights.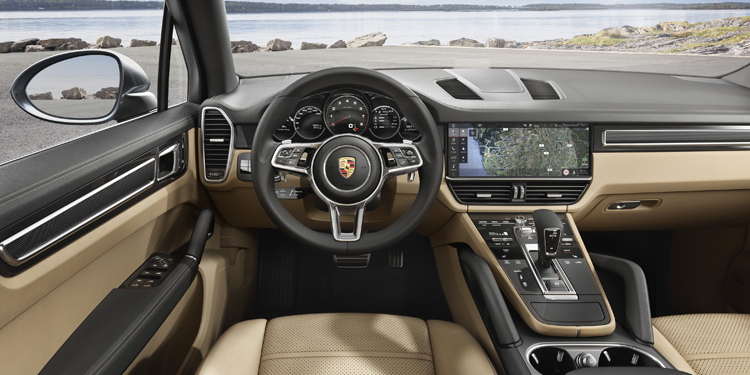 The 12.3-inch touch screen from the Panamera comes over as well, offering a wide variety of services, including online navigation with real-time traffic. Porsche says the display has a smartphone-like touch surface, giving acoustic and haptic feedback when touched.
In typical Porsche style, the driver has a central analog tachometer to view. This is flanked by two 7-inch full-HD displays showing relevant driving data that can be selected and changed using the multi-function steering wheel. Cayenne customers may specify a variety of available assistance systems as well that include Night Vision Assist, which uses a thermal imaging camera to detect pedestrians and animals before they are visible to the naked eye.
The 2019 Cayenne and Cayenne S models are available to order with a starting price of $65,700 USD and $82,900 USD respectively, excluding the $1,050 USD delivery, processing and handling fees. They will reach U.S. dealers midway through 2018.
all images courtesy of Porsche
Comments
comments