New York-based startup Pium has introduced a smart aroma diffuser — that looks like a smart speaker  — to let users automate their home fragrance with smartphones. Capable of taking up to three different scent capsules, intensity of each aroma in these cartridges automatically blends to optimize olfactory experience of users based on their preferences. Their mobile app shows the current scent information and schedule of all scents, and also provide a user interface to change scents as well as their intensity remotely.
Pium also supports Amazon Echo to communicate naturally with users. The scent capsules are smart. As soon as the bottle is inserted into the device, Pium knows what it is and sets diffusing schedules automatically. The capsules are designed to isolate oils from getting in contact with the air, so the last drop is as fresh as the first one.
Elevating any space with a scentful design, Pium comes in two versions; Brooklyn and Chelsea. With an elegant metal finishing of anodized aluminum, Pium Brooklyn adds a luxurious touch while the pure white ceramic finishing of Pium Chelsea blends into any space in harmony for that human feel. Both versions are designed to impress in harmony with pre-existing furniture materials (woods, marble stones, glass, metals and etc).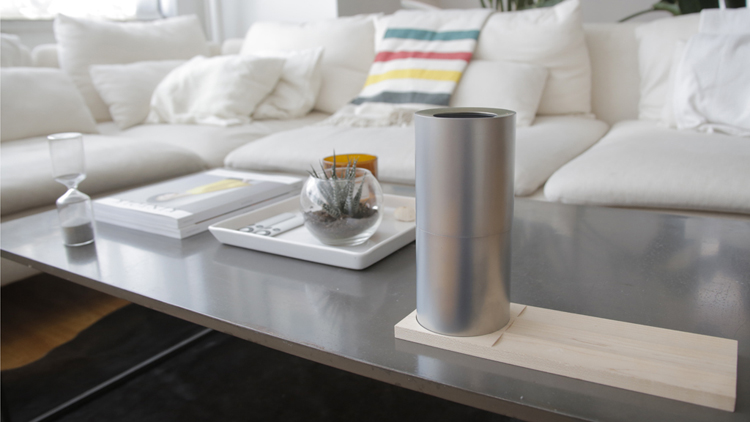 Pium makes scentful life easier and simpler with connected devices. Smart phone app knows a user's location and set diffusing schedule automatically. When a user leaves home, Pium stops diffusing and wait until she comes back. Compatible with Amazon Echo for voice control, simple voice command such as "Alexa, tell Pium I study" will activate Pium to diffuse scent best for enhancing brain activity. Pium monitors mental health of users with soothing and calming scents like lavender when the elevating stress level is detected using heart beat from wearable devices like Apple Watch.
Pium Brooklyn and Chelsea are available for preorders on Kickstarter at an early bird price of $299 and $149 respectively.
all images courtesy of Pium
Comments
comments