It's known for its cleverness and adaptability. A real tough nut. A survivor at home in any terrain. Even in the desert, you might hear its wild howl. Spanish customizer Karles Vives' fascination with the coyote inspired him to name Fuel Bespoke Motorcycles' R nineT Urban G/S conversion after the predator.
Customizer Karles Vives, his mechanic Claudio and a few specialists help build Coyote within five months, a bike that Karles would gladly park in his own garage. Coyote strives to replicate those iconic bikes from the 50s that carried hard-boiled bikers through the deserts of the American West. They were converted road motorcycles made suitable for off-road use. They typically featured a raised exhaust pipe to protect from kicked up stones, an engine guard and a high seat for bearing bikers over endless miles of rough terrain.
The biggest challenge for Karles was the tank conversion. A smaller, lighter one was needed. The customizers modified the tank of an old Suzuki GT 250 which they only got to fit by dismantling the original fuel pump and mounting it elsewhere. His team also installed an auxiliary gas tank to house the gas pump connected to the main fuel tank. Another round of work went into aligning the tank and seat at a level height.
Fuel Bespoke Motorcycles' mechanics also modified the rear frame, adding a rear bar to give the bike a classic scrambler look. The bench, upholstered in natural and suede leather, blends into this look. The Hollywood handlebar, the small headlight of a classic Spanish Enduro with grid protection and mudguards made of chrome give Coyote unique charm. The manifolds and exhaust are handmade.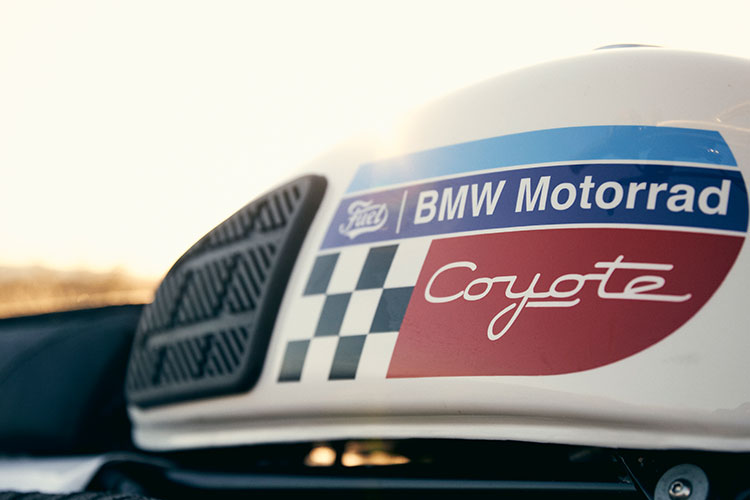 Mini LED indicators, footrests from SW Motech and retro-style cylinder head covers from BMW Motorrad top off the converted R nineT Urban G/S. The customizers have optimized the chassis with the adjustable hydraulic cartridge for the front fork from Andreani and the rear shock absorber from Öhlins (46 DRL BM 641). Karles opted for Continental TKC 80 tires for both on-road and off-road use, virtually turning it into an any-surface, all-purpose weapon.
Comments
comments