At this year's Goodwood Festival of Speed, Swedish tech start-up Einride has revealed the T-log, an autonomous, all-electric logging truck, which is designed to hit public roads by 2020.
As a more powerful version of the startup's previous T-pod model – an all-electric, autonomous truck revealed last year – the T-log boasts advanced off-road capabilities and is designed to navigate through rough forest roads.
Powered by the Nvidia Drive self-driving platform, the T-log is capable of SEA level 4 self-driving. It has no driver's cab but can be remote-controlled by a human operator, from hundreds of miles away using Phantom Auto teleoperation safety technology designed to provide robust, minimal latency telecommunications even with 4G. No driver's cab enables a smaller vehicle, increased loading capacity, greater flexibility, lower production costs, lower operating costs and optimized energy consumption, allowing the T-log to run solely on batteries, even in difficult environments.
"The driver's cab is what makes trucks expensive to produce, and having a driver in the cabin is what makes them expensive to operate," explained Einride CEO Robert Falck. "Remove the cabin and replace the driver with an operator who can monitor and remote-control several vehicles at once and costs can be reduced significantly."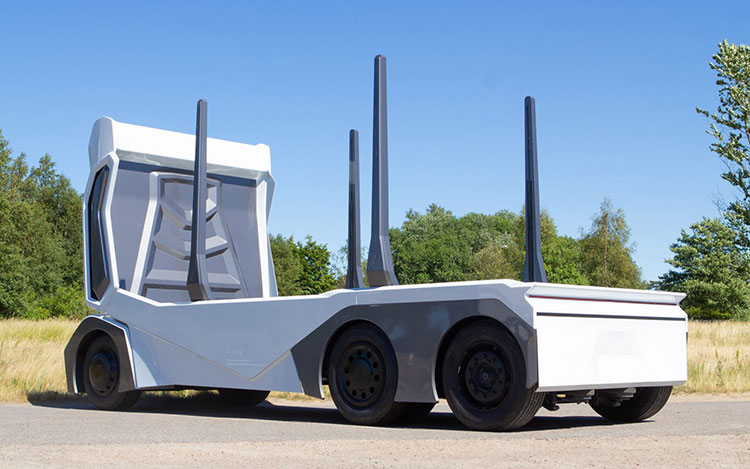 Connected to an intelligent routing software, providing it with real-time traffic data, the T-log can adjust its route to avoid congestion miles ahead. A fleet of T-logs will be coordinated by an intelligent routing system, optimizing delivery time, battery life and energy consumption, making the transport as efficient as possible.
"Einride is constantly pushing the boundaries of autonomous and all-electric vehicles in our ambition to lead the transition to a sustainable transportation system," said Falck. "With the T-log, we've created a vehicle that can withstand the rigors of a demanding environment. It is uncharted territory for us, but also an enormous market for battery-powered AVs," he added.
Emitting no greenhouse gases or toxic nitrogen oxides, the T-log is an environmentally and health friendly alternative to diesel-powered trucks. Equipped with cameras, lidars, and radars, it has a 360-degree awareness of its surroundings – no blind spots, no dead angles.
Comments
comments