Casino slot machines aren't the first thing you think about when it comes to clever design. Moreover, they aren't what you would naturally call artistic. However, due to an ultra-competitive online casino industry, software developers push the boat out with their creations. Many slots are now so far removed from the single line "bars and fruits" idea of the past, that it's difficult to put the games in the same category.
Below, we have picked out four slots that are worth checking out for their design and creativity:
Buffalo Blitz (Playtech)
Let's be clear about this: Buffalo Blitz is our favorite online slot. Why? Because in terms of the design logistics of creating a game, it was one of the first to really rip up the rule book. A standard slot machine has about 20 paylines these days, whereas others might have 30, 50 or even 100 paylines on the reels. It was also seen as revolutionary when some slots began delivering 243 paylines, covering every combination across a 5-reel, 3-row reel set. Buffalo Blitz blew the that idea out of the water with a massive 4,096 paylines. The crucial factor to its success is that all paylines are active even with a small bet, meaning even low stakes players can reach for huge prizes.
Finn and the Swirly Spin (NetEnt)
Now for something completely different: Finn and the Swirly Spin doesn't look like a slot; it doesn't even have any reels. Instead, the game takes place in a maze. Once you "spin", the symbols will swirl through that maze and explode when winning combinations have been achieved. At the start of the maze, there is a magic key which will move through the maze as those symbols explode. If the key reaches the lock at the end of the maze, you enter into a new world of free spins features. That doesn't sound like a slot machine at all, does it? In fact, it sounds like the sort of video game made by Clash of Clans creator, Supercell. Possibly the only criticism of this game is that it takes a lot of time to unlock all the special features, perhaps months of gameplay. But that means the game will feel fresh weeks after you have first played it.
The Legend of Shangri-La: Cluster Pays
Arguably the most beautifully crafted game on this list. The Legend of Shangri-La has some of NetEnt's signature artwork; cute animations and innovative use of 3D graphics. The game takes place in the magical land of Shangri-La, where you are guided by a mystic guru (a 3D red panda), who will aid you on your quest for cash by weaving his magic on special spins. Again, traditional reels aren't really evident in this game, as the gameplay is decided by clusters of symbols appearing on screen.
Avalon II (Microgaming)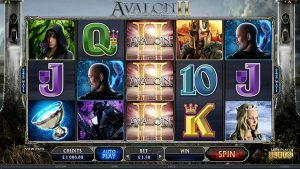 Microgaming spent years developing Avalon II, and it's easy to see why. The premise of the game is that of a journey to the mystical Isle of Avalon, which featured heavily in the legend of King Arthur. To be honest, the main game is pretty standard fare, although it features some cool 3D animations. The game's artwork really comes to life with the Grail Bonus. This opens up an interactive map, which you will follow on the way to Avalon in the search for the Grail. That map has several points where you will stop to solve mysteries (for money obviously), forge swords and battle dark knights. Incredible stuff from Microgaming, who really made something special here.
Comments
comments