Figuring out the interior design of a dental office is no simple task. Even though running a clinic requires specialized equipment, it takes more than that to get patients to keep coming back. The dental office decorating tips we're about to share prove that certain additions can make the space feel more inviting.
Of course, dental office interior design isn't something you have to tackle on your own. Some companies specialize in setting up the various elements that make a place more appealing. Still, if you want to learn about dentist office design in Chicago, we'll gladly walk you through how a professional dental office designer does their job.
Stick to a Theme
When it comes to designing an office, the first question we ought to ask ourselves is what we want the space to achieve. In the case of a dental clinic, we might consider whether the atmosphere we want to project is cool, sterile, and elegant, or cozy and homey.
If we're dealing with a high-end clientele, we might want to make the business appear more clinical and exclusive. To do that, we may put in navy or black leather furniture in the waiting room and sprinkle some gold or silver accent pieces throughout. Glass partitions and metal elements are common in dental offices that project that kind of image.
On the other hand, if we're going for a more family-friendly environment, we may suggest a more natural design. That would involve putting in more plants and colorful, textured decorative items. Additionally, we might cover a wall in wood paneling or a stone tile to add character to an otherwise cold space. Once we decide upon a theme, we can move on to establishing the general layout of the office.
Figure Out the Clinic's Layout
Most dental clinics consist of four types of rooms — the reception and waiting room area, the treatment room, toilets, and a break room. The goal of interior design is to make all those rooms feel like a cohesive unit. But since patients will only be in three of those areas, we're going to focus on those.
If we're working on a tight budget, we'll want to secure all the necessities first. That means dealing with the treatment area, to begin with. One of the best dental office decorating ideas for addressing the dental units is to keep them all in one room.
Most dentists work in relatively small office spaces. To ensure their patients' privacy, they might build walls around each dental unit. But we're here to say that that may be an unnecessary expense.
There are several benefits to putting all dental units into a single room with an open floor plan. For one, doing so makes the space feel less claustrophobic. What's more, it usually results in the whole room getting more natural light, particularly if there's a limited number of windows in the office.
Best of all, having an open floor plan doesn't preclude us from offering patients privacy. Setting up room dividers or partitions between units is cheaper than walling off treatment rooms in an office that doesn't already have them.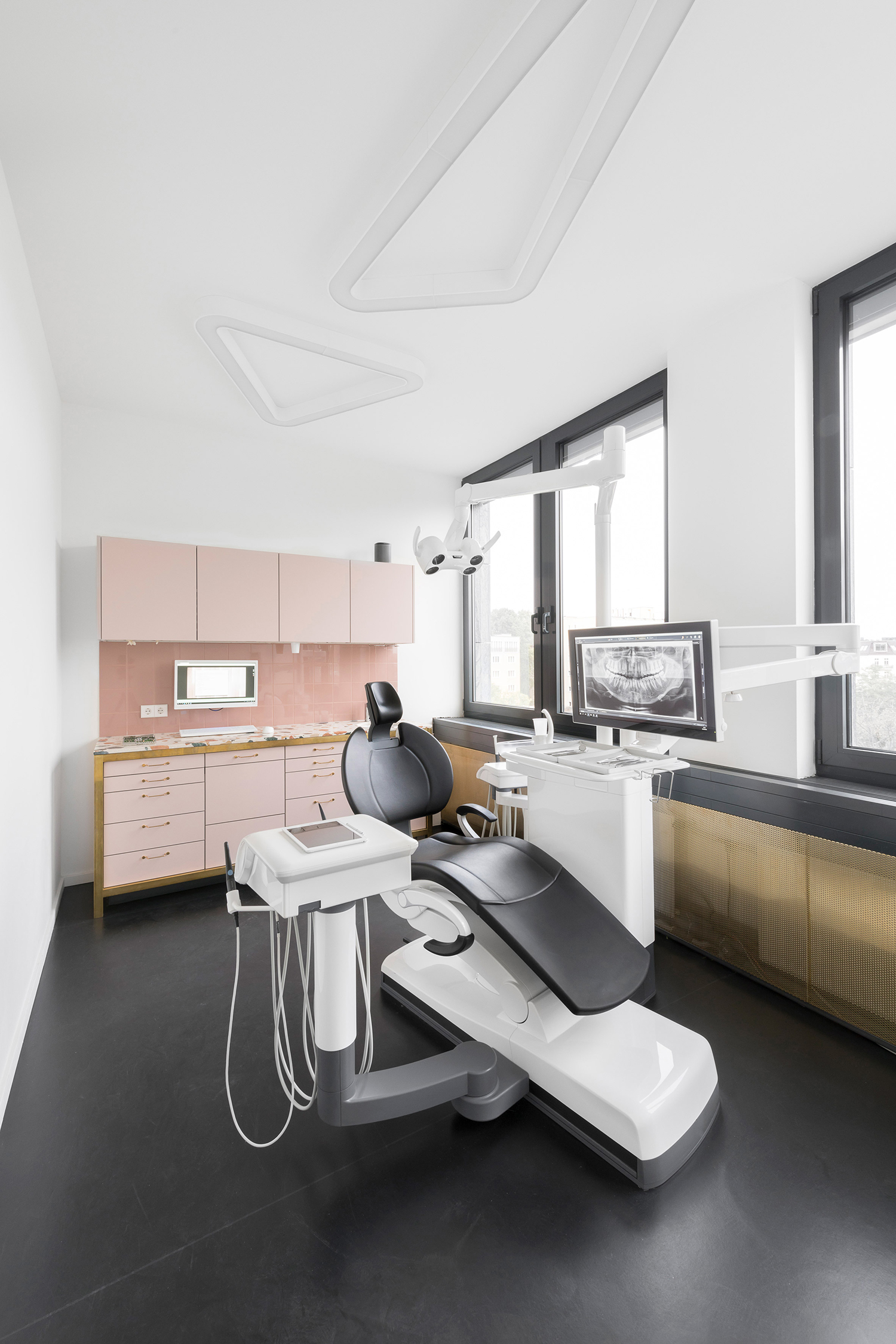 Fill the Space With Visually Interesting Items
Now that we have the necessities in place, let's talk about how a professional designer might approach decorating the rest of the office. To begin with, we suggest looking through the dental office interior design examples on Pinterest. As you may notice, most of them contain the same decorative elements — so let's break those down!
Make the Reception and Waiting Room Area Welcoming
Whether we've opted for a more glamorous or earthy theme earlier, it's always a good idea to make one's patients feel comfortable in the waiting room area. After they check in at the reception desk, they'll need a place to sit. That's where the dental office interior design can really shine.
A waiting room of a private dental clinic should have comfortable chairs and several coffee tables, to begin with. If we want to be thorough, we might throw in some decorative pillows to bring the theme together as well.
Additionally, patients should have something to entertain themselves with. That could be a stack of magazines on the end table, a TV and artwork for the walls, or some kind of background music. If the clinic often treats minors as well, we could also put a shelf of toys in the waiting room.
If we have a more robust budget, we could bring in some refreshments too. Employees at the clinic will surely appreciate having a mini-fridge full of bottled water, a coffee maker, or even a full snack station. Those amenities can also be accessible to patients after their procedures. Still, if the budget can't cover such expenses, a simple vending machine would work too.
Bring in Some Greenery
Let's be honest — most people don't want to be in a dentist's office. The atmosphere in traditional practices is often thought of as stuffy and uncomfortable. Luckily, plants have a way of breathing life into all kinds of spaces. So one of the best dental office decorating tips we can give you is to simply bring some flowers to the premises.
If the office doesn't have a source of natural light, there are plenty of indoor plants that don't need sun. However, if having to water plants is too much responsibility, artificial ones are always an option. All you'll need to do is wipe the dust from the leaves every once in a while.
Incorporate Lighting Fixtures
Most people associate medical settings with fluorescent lighting. However, those kinds of lighting fixtures, particularly if they're built into the ceiling, aren't the most flattering.
Instead, we recommend getting wall fixtures as well as floor and table lamps — at least for the waiting room. Using warm rather than cool-toned light bulbs is another great way to put patients at ease.
Consider Setting Up Air Conditioning
If a dental clinic doesn't already have a temperature control system, we should think about installing an AC unit. After all, some patients are already going to be sweating bullets before their procedure. There's no need to make them more anxious.
Air conditioning should keep the waiting room cool in the summer, and comfortably warm in the winter. However, it will require regular maintenance, which is something the company will have to pay for. So that's also something to keep in mind as the owner of the clinic.
Take the Decor Into the Bathroom
As a final aside, we wanted to highlight the importance of having functional, accessible, and fully stocked toilets for the patients and staff. Of course, not all people who come into the clinic will need to use the facilities. Still, having neat, new bathrooms can only help — particularly if you take the time to match the tiles to the rest of the office decor.
Patients Will Love Coming Back!
Now, some of the dental office decorating ideas we've presented here would be most useful for those who are moving into a new office space. Yet, implementing the tips we've mentioned may be as easy as buying a succulent on the way to work.
Either way, once your patients notice the changes, they'll feel more comfortable in your clinic. Before you know it, their regular checkups that they book through your dental scheduling software will become a pleasant errand rather than a chore!