Inspired by light and ethereal figures, as its name indicates, The Cloud by industrial designer Bea Palacio and architect Mecha Palacio, creates an atmosphere and sensory space. Its lightweight and porous appearance, invites the visitor to dive into a steamy world, participating in the experience of floating on a cloud.
These light and enveloping shapes fire visitor's imagination increasing their surprise effect. "The Cloud" creates an experience in the visitor, transporting him into a state of illusion.
The intervention consists of a series of elements that together build an integrated space which inhabits between the real and the imaginary. The walls, lined with glass, create a transition from white to mirror, through the application of a gradient of intermediate points. The light wood floor, will be reflected in the mirror, creating a sense of continuity in space.
The cold – white, global illumination reinforces the concept of cloud, also incorporating a lateral light slits arising from both the roof and the stairs, vanishing along the walls.
In the ceiling of the stairway, a wavy pattern is generated by using a base module, which repeated several times generates an undulating and continuous volume. These modules were generated, taking into account the material reuse. The pieces selected as base modules  were originally rigid Polyurethane foam half pipes, that were destined to be discarded.
By a series of operations, such as; cutting, assembling and painting, designer duo obtained the final pieces which compose " The Cloud".
This porous volume is designed using parametric design software, such as Grasshopper. In order to generate these height variations, each module needs to have a special length and location. As a whole "The cloud" is perceived as  lightweight moving surface.
The Cloud,  is part of the Arch. and Design show Casa FOA which takes place in Buenos Aires, Argentina, every year.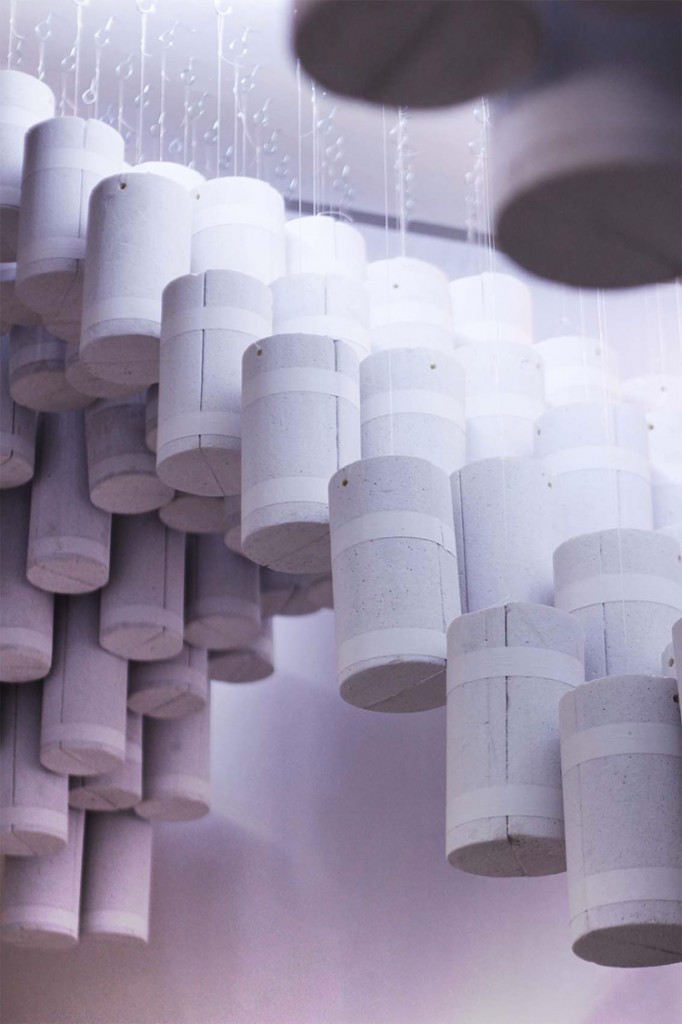 all images © SANTIAGO LOPES