Quicksilver Japan introduces the True Wetsuits, the 1st suit of its kind in the world, which can be worn on business occasions, for parties, and, of course, surfing. The True Wetsuits is designed to fit every aspect of users' lives to make both life and surfing more fun. A must-have item for the busy, modern person. The True Wetsuits is available with three styles – black, navy, and tuxedo, that is appropriate even for business occasions after surfing. The "black" and "navy" models feature a single breasted two-button jacket that can be worn casually.
The jacket and pants are made of a 2mm super high-stretch jersey neoprene, the same fabric that Quicksilver uses to make regular wetsuits. The parts are joined with glued and blind-stitched seams, a method specially developed for wetsuit production. The pinholes do not penetrate the fabric to prevent water from coming inside the wetsuit.
The pockets are designed flat to prevent them from catching water while surfing. The breast pockets have been designed specifically for use outside the water. The inside pocket on the left breast of the jacket is designed with a fastener and drain hole, to store any electronic devices in business situations, and the outside pocket on the same breast is designed with a slit and space to carry a handkerchief.
Two antique silver buttons are used on the front of the jacket and plastic dot buttons are used on the cuffs. The jacket also features side vents to allow a comfortable posture while waiting for waves.
The shirt has been designed with a dress shirt silhouette and a crisp collar to create a formal impression. It is made with a recycled 4-way stretch of DryFlight water repellent fabric. The shirt is made of a fabric designed for surfing and the placket is closed with a fastener to prevent water inflow. It appears formal but is equipped with details that make it suitable for water surfing.
Like the jacket, the tie is also made of a 2mm super high-stretch jersey neoprene. Sublimation transfer printing is used to adorn the tie with a delicate design suited for business and party situations. The fabric is also pressed in a special process to make it thinner and easier to tie.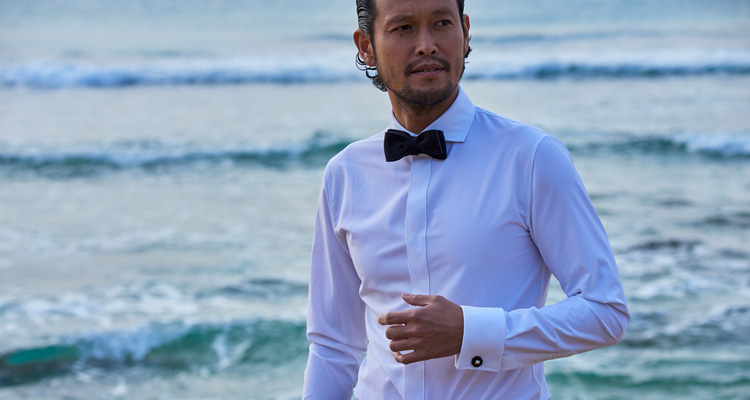 Orders for the True Wetsuits can be placed through the Quicksilver Japan website. The True Wetsuits includes a jacket, pants, a shirt, and a tie, and is priced at 300,000 YEN ($2500 USD) and will be delivered in approximately two months.
https://www.youtube.com/watch?v=UutiBRDxJ0U
all images and video courtesy of QUICKSILVER JAPAN