Portuguese architecture studio M2 Senos has completed a new public toilet for a cemetery in Portugal's Ílhavo municipality. The local practice, which is led by brothers Sofia and Ricardo Senos, was asked by the parish council to overhaul São Salvador cemetery's bathroom facilities on a restricted budget.
"Toilettes in a cemetery do not seem to be the most appealing projects. Not even for the design brief. Not even for the place. Not even for the budget. Nevertheless, for us, it was exciting!" explain the architects. "We have been there a few times before and we were always uncomfortable, looking at the floor trying not to stumble in the narrow paths between the great marble stones."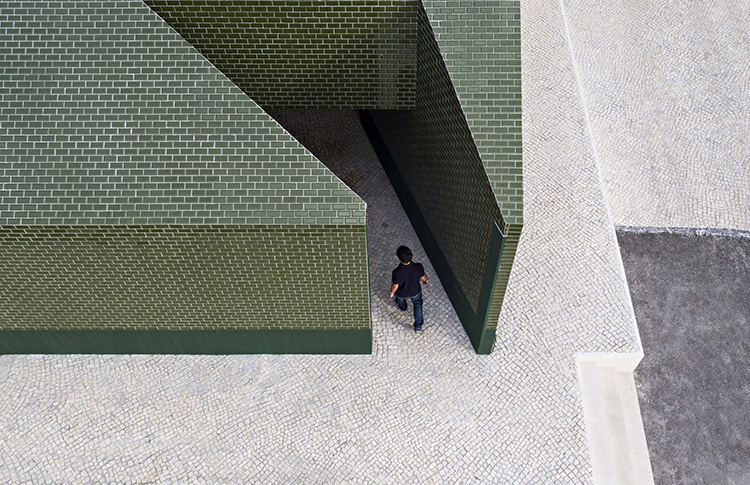 "So when we were asked to do the rehabilitation of the toilettes (the old building), it was as if it was the first time there," they continue. "We perceive the hierarchies, the streets, the paths, the square, the church, the entrances and the exits, the trees, the stones, and the green flowerbeds… How beautiful and organized!"
The (old) building was huge and absolutely out of the context, with vast flat roofs that almost touch the chapel. It was a "sacrilege" to see this scenario from the south entrance of the cemetery. All they did was to reduce the size and to summarize the information. An abstract exercise to create an abstract object: no doors, no windows, no sheds or porches.
Windows have been omitted from the toilet's facade, which is almost entirely clad in forest-green ceramic tiles "to create a uniform and neutral object". M2 Senos chose the hue to echo the strips of greenery and trees dotted throughout the grounds.
Through the two extracted mass on the facades, we get in the building. On the south side, we access the new facilities for supporting the cemetery workers staff. The main entrance is from the north and takes us to the central space, inside the building, but with exterior features, pointed out by the natural light and the Portuguese Pavement on the floor (the sidewalks that surround the building continuity). Here, there are the washbasins, and is a space that works like a pivotal area, between the female, male and accessible facilities.
This is a building without technology, which means that is the wind (strengthened by the north-south orientation) that dehumidifies and renews the air. All the interiors are white and have natural lighting through skylights, which reinforces luminous comfort. The marble washbasins match with the outdoor objects of the cemetery.
all images © Nelson Garrido