With the iconic skyline of London's business district in the backdrop, the 2016 Jaguar XF has performed the world's first high-wire water crossing to demonstrate its 'lightweight and agile credentials'.
Jim Dowdall, Hollywood movie stuntman and veteran of action scenes in films including Bourne, Indiana Jones and Bond, was in the driver's seat for the 240 metre three-minute journey: "Over my 35 years in the industry I've driven Jaguars on many Hollywood movie sets. However the biggest test for me on this stunt was the unpredictability of the elements. Potential oscillation in the high-wires from wind speeds meant it added a real challenge. The wires are only 34mm in diameter so the journey required absolute precision, balance and control."
Meteorological experts and structural engineers were on hand to determine precise drive conditions, based on comprehensive crosswind analysis. As a contingency, top stunt man Jim Dowdall was rigged up with abseil equipment, a cherry picker crane was on hand and a RIB safety speedboat waited on the banks.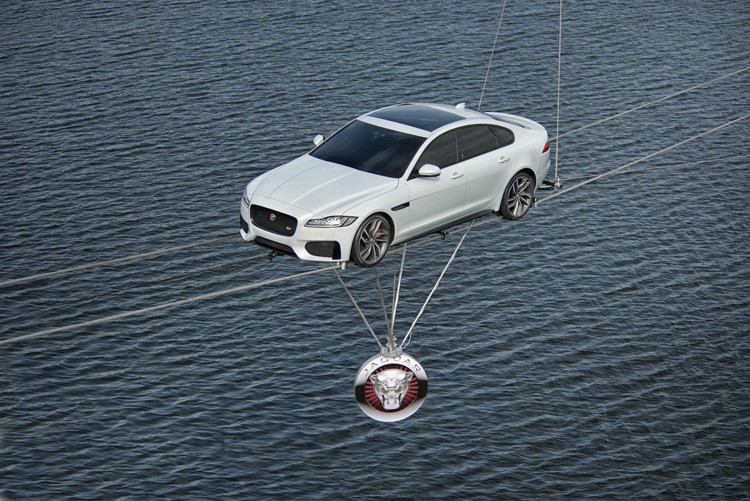 The sky-high tightrope journey showcased the XF's lightweight credentials – its new aluminium body means it is 80kg lighter than its nearest competitor and 190kgs lighter than its predecessor. The new XF is the third Jaguar to be based on the brand's advanced aluminium architecture, making every Jaguar now produced aluminium intensive. The British firm is the globally recognised leader in high-tech aluminium construction, which leads to strong and safe but ultra-lightweight body structures.
Less weight means better efficiency and the new lightweight XF can now boast segment-leading figures of over 70mpg and 104g/Km CO2. It also offers more rear seat space than its competitors as well as new touch screen technology and unrivalled levels of luxury and refinement.
The all-new XF will next be seen in America on 01 April, where it will debut at the 2015 New York International Auto Show.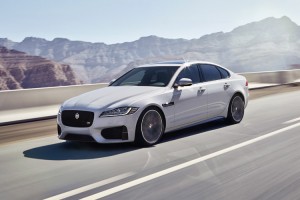 all images and video courtesy of JAGUAR