Your kitchen is a home of food and family, the place where you prepare sustenance for your loved ones. Over time, the look and appeal of your cooking climate may have become outdated and dull. Revamping your kitchen cam add spice and delight to your home, creating a new vibe, more attractive features and make the task of cooking more enjoyable.
New flat packed kitchens can add thousands of dollars of value to your property and if you do it right, you can save yourself some time and money by doing some of it yourself. Perhaps you need more storage space, or you simply want to remove the old faded cupboards and replace them with something more versatile and attractive.
What ever the case may be, there are many choices to make. You may elect top simply repaint over the top of your existing cabinets, or you may want to make an investment and view some custom made options. It might appear to be a daunting and troublesome task to install these yourself, but with some handy tips and insights, you can certainly complete the job with confidence.
1. Slow down and take your time
Anticipate that this project may time a fair bit of time to complete as well as a good dose of patience. If you're not a person who usually participates in DIY, it might be a little confronting, but taking your time and double-checking things may save a lot of stress in the long run.
2. Choose a look for your new kitchen
Plan ahead with how you want your new kitchen to look. Consider colour options to match your current wall colour if you don't want to repaint and how the look will flow through to the rest of your home and the current décor in your kitchen. 
Are you wanting a whole new look or something that compliments the appliances and décor or are you redoing the entire room? Contemplate what material you prefer the cabinets to made from. Do you require material that is easy to clean and maintain or are you leaning towards something more visually stimulating?
3. Think ahead
Parts of your kitchen may not be usable for a while. Consider where you'll store key items such as your refrigerator, dishwasher and other large appliances. If possible, move them into another room so you have extras space to move around and renovate.
Think about where you'll be able to house food, appliances and all the other goodies you currently have tucked away in your current cupboards. Now would be a perfect time for a spring clean and decluttering binge. Take care not to clutter other areas, especially if you need room to store larger items. Consider if you can box them up and store them in the shed or another out of the way location.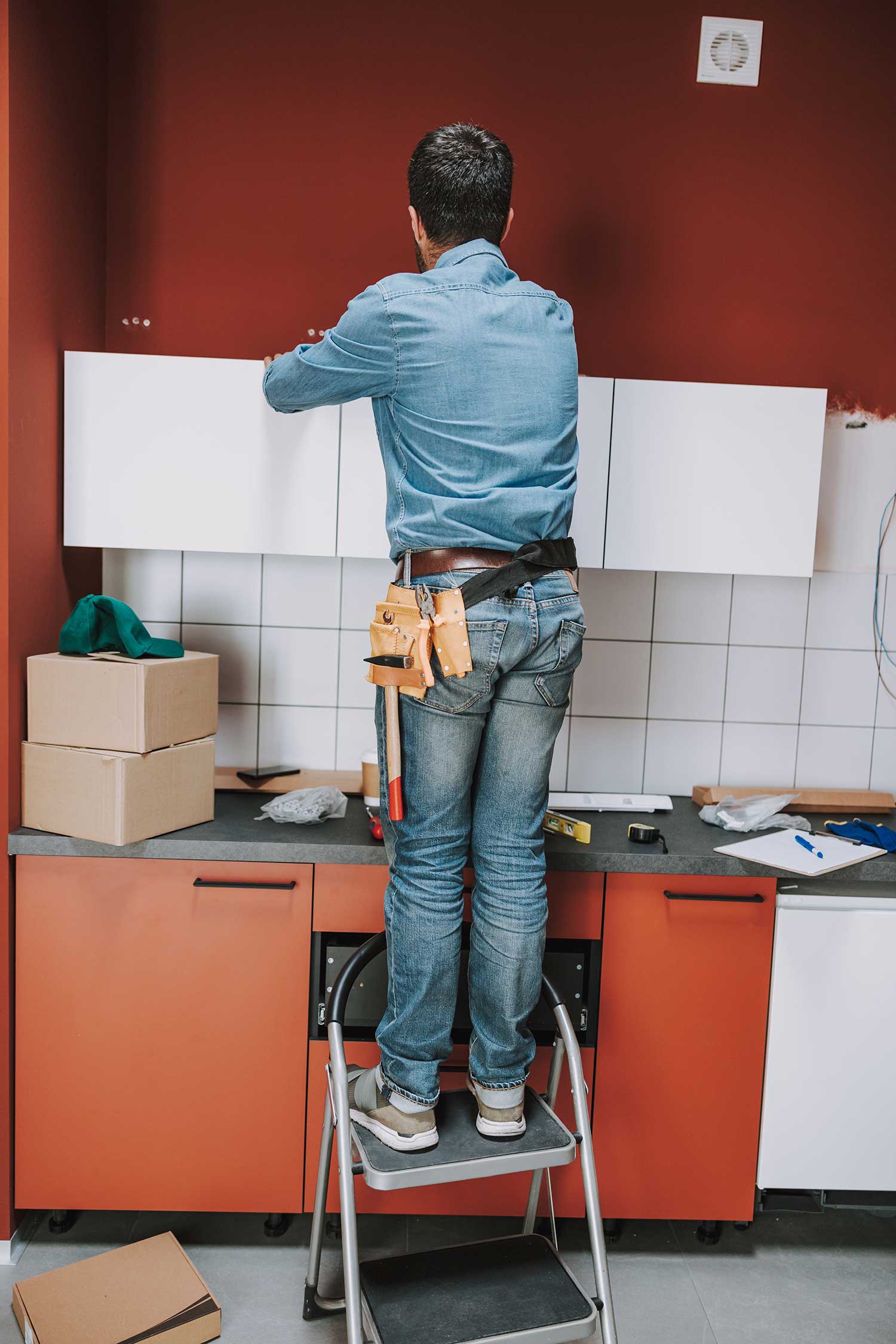 4. Out with the old
Take out the old cupboards, starting with the base ones as this will allow you more room and easier access to remove the higher cabinets. 
You'll also need to ensure that the walls and floors are level. One good method is to use a spirit level to ascertain if these areas are even. If the walls are uneven or have holes and uneven spaces, you'll need to patch them up. If the flooring is uneven, it might be best to get a professional in to have a look.
5. Measure up
Take measurements of the areas you need the cabinets for, or of the existing ones so you know what size to order. Don't forget to measure up the spaces for your oven, fridge and dishwasher to so you can avoid any miscalculations that may mean you need to unexpectedly alter areas.  Ideally, double check your measurements to ensure there are no errors. Getting this wrong might mean you need to trim back expensive cabinets which will not be a joyous experience at all.
6. Plan, prepare and mark up your space
Mark the areas you want the cabinets to go in. Do this on your walls initially so you have a visual perception of where it will all go. You'll be able to see where and how it will all fit. That's why taking those measurements and double checking them is so vital. If skipped, this is where you may start running into problems.
7. Cupboards ahoy!
Start installing those cupboards. The corner ones should go in first as this makes the process easier. It's a much simpler process to line them up this way. If you don't have a corner cabinet, start with an end cabinet. 
Take care to avoid chipping and damaging your panels and doors. Only take what you are using at each precise moment out as you require it. This will stop confusion of having to many panels out and not being 100% sure if its' the right one for an area. It'll also stop the doors from becoming marked or spoiled, which you want to avoid as they are the first parts you see. 
8. Go over the installation to check for gaps
Sometimes even with the most accurate and painfully taken and double, triple checked measurements, there might be a gap between your cabinets and the all. If you can offset the gap and centre your cabinets so the gap is the same size on both sides, rather than one large one in one area.
9. Don't be afraid to ask for help
If it all seems to much or you just don't have time, don't be wary about hiring a professional to do the job for you. It might seem like a great idea at the time, but if you the cabinets arrive or you rip out the old cupboards and feel the entire project is just a bit out of your scope, there is no shame in picking up the phone and calling a reputable tradesperson.