adidas has recently opened the "SUPERSTAR | Hall of Fame" pop-up store in Seoul's Gangnam district, South Korea to celebrate the comeback of its classic Superstar sneaker. The design concept aims at bringing out the sneaker's essence, which is expressed in the campaign's slogan "Superstar is not what you think it is". The goal was to create an experience space that highlights superstar's deep involvement and evolution in the heart of popular culture.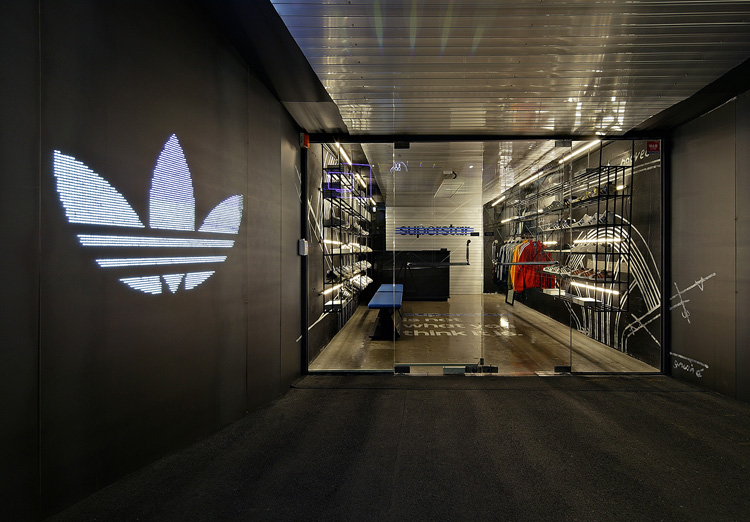 In order to capture the essence, Korean URBANTAINER's design team decided to maintain as much of the space's original character as possible. Materials like diamond mesh wire, rhombus steel panels, metal pipes, straps, hot rolled steel sheets and old wood create a refined yet raw environment with a natural flow between emptiness and fullness.
Visitors are guided through an exhibition structured by six grand themes, Hardwood & ackboards, Music & Culture Connection, Art in Superstar, Superstar in Superstar, a Collaborative approach, Fashion in Superstar. The content was carefully curated to present the Superstar's history, music and concert videos of performers who were in love with the sneaker and the creative fruits of collaboration projects with international and Korean artists.
The inner court is surrounded by a mesh fence, referencing a street basketball court in the 70s, when the Superstar made its debut as an innovative basketball shoe. The shop area was inspired by the charm of a garage, complete with shutter and steel rods holding the sneakers. The stencilled slogan and graffiti tags all over the area infuse a raw energy that reminisce the early days of street culture of which the Superstar was an important part.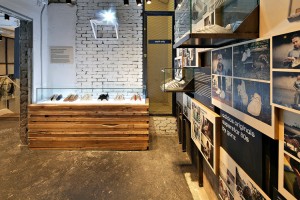 all images © YOUNG KIM_INDIPOS – video courtesy of ADIDAS KOREA