Zagreb-based architecture studio 3LHD has recently refurbished a 1913 hotel in the historic city centre of Rovinj, Croatia. By a comprehensive reconstruction and a collective effort of creative artists from Croatia, Slovenia, Austria, Italy, Germany and France, gathered around 3LHDs concept, the Adriatic Hotel was transformed into a luxurious focal point of the city.
Traditional, authentic historical appearance was maintained in the exterior, while the new interior designed by Studio Franić Šekoranja with 3LHD is visually lavish, eclectic, modern, classic and elegant, with an abundance of texture, shades and colours.
When designing the interior concept the emphasis was placed on creating the atmosphere and aesthetics rather than the restoration of the original interior. In addition to preserving the heritage values of the hotel, historical layers of the hotel were interpreted in the design, and the artistic interventions created a contemporary cosmopolitan spirit.
Each area in the hotel was treated individually and emanates a different atmosphere: the brasserie is comfortable, in Mediterranean shades and intertwined with the scenery, black hallways are illuminated by artistic light installations leading to white and airy rooms overlooking urban life of the old town. Dark mirrors on bathroom room walls negate space and make classic rectangular ground-plans 'anti-classic'.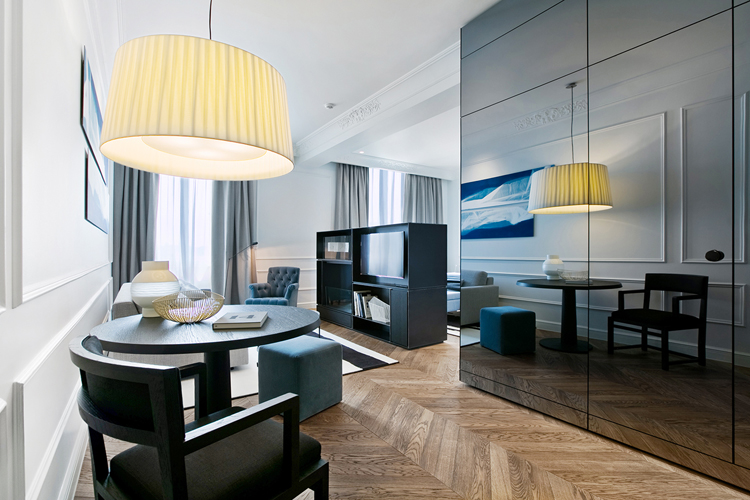 all images courtesy of Adriatic Hotel