Inspired by Italian director Pier Paolo Pasolini, Studio Luca Guadagnino has recently designed the interiors of Aesop's new store in Rome's San Lorenzo neighborhood. This is the first retail project to be completed by Luca Guadagnino's eponymous studio. On a trip to Los Angeles, Guadagnino happened to be staying in the same hotel as Aesop's founder, Dennis Paphitis, who tasked him with giving the skincare brand's new Rome location "a sense of monastic order and tranquility".
"In the course of a conversation, we realized that we were attracted by the idea of a Rome that had now disappeared, from the fifties, by the contrast between the ancient buildings of the city and the surrounding countryside," explains Guadagnino. "Pasolini's cinema was another great source of inspiration. In particular, his 1967 film, Edipo Re."
The store is set within Piazza di San Lorenzo in central Rome, just a short distance from a fifth-century church and the city's famous Pantheon. Guadagnino is more widely known as a film director and screenwriter, recognized for his works including I Am Love, A Bigger Splash, and Call Me By Your Name.
The tones and materiality of this historic site and other local architecture, such as the Pantheon, held strong sway, along with a genius loci and some of Rome's memorable personalities: Maria Callas, Pier Paolo Pasolini and Alberto Moravia. Imperfect and rudimental use of regionally sourced materials—straw, marble and travertine—effect a cohesive whole inside a modestly proportioned space, exuding a sense of monastic order and tranquility.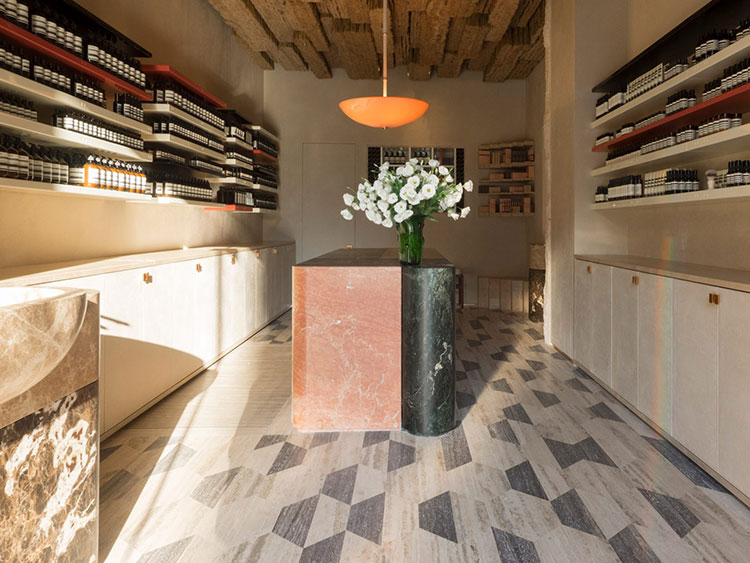 Three tones of travertine cover the floor in a rhomboidal pattern in subtle homage to the interior of the church of San Lorenzo in Lucina. The internal furniture is construed as blocks inlaid with regionally sourced. Architectural straw sheaves articulate the ceiling, inspired by the thatched roofs of houses common during ancient times to the Agro Pontino outside the city.