The highly anticipated Silo Hotel has opened recently in Thomas Heatherwick's conversion of a historic grain silo at the V&A Waterfront in Cape Town. London-based Heatherwick Studio – headed up by designer Thomas Heatherwick – is overseeing the conversion of the building, in which the Zeitz Museum of Contemporary Art Africa (MOCAA) will open later this year.
Occupying six floors above the museum, The Royal Portfolio hotel is accommodated within the grain elevator portion of the building where grain was once lifted by elevators from the track bed to the top.
From the outside, the greatest visible change to the building's original structure is the addition of pillowed glass windows inserted into the geometry of the hotel floors. These windows bulge outward as if gently inflated. By night, this transforms the building into a glowing beacon in the harbour.
The hotel's interiors were designed by The Royal Portfolio founder and owner, Liz Biden, whose eclectic approach to the decor is intended to complement the contrast between old and new that now defines the building.
The Silo Hotel has 28 rooms, including a spectacular one bedroom penthouse. Each room has been individually designed and decorated by the stylish wand of Liz Biden. Colourful and eclectic pieces juxtapose the modern, industrial architecture.
The 7 room categories are based on the room size and the views. The rooms are more spacious vertically than horizontally due to the unique architecture of The Silo Hotel and in particular the ingenious design of the pillowed window bays which are one of the key architectural features.
"My goal has always been to pay tribute to luxury and provide comfort for our guests," said Biden. "This has meant balancing the stark and industrial style of the architecture with aspects of classic glamour and modern comfort."
The hotel has its own private gallery called The Vault, which is situated in the basement and will exhibit work by emerging African artists on a biannual rotation.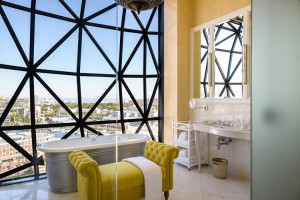 all images courtesy of The Royal Portfolio
Comments
comments