Environmental artist Steve Messam has installed three inflatable, fabric sculptures into the buildings and landscape of the Borders Sculpture Park at Mellerstain. Messam's fascinating site-specific installations work with the surrounding landscape and buildings to transform the way we see them. His three inflatable fabric sculptures are bold celebrations of form and have to be experienced in their environment to be appreciated fully.
All white in colour, the works are a contemporary echo of the marble sculptures that were originally envisaged to adorn Mellerstain's grounds. Mystery surrounds the two buildings in which the works sit, and conflicting stories exist about what they were used for. Messam extends this uncertain history with new narratives, playing with their sense of magic.
Scattered (pictured top) is a series of spheres – between 2 and 4 metres in diameter – that appear to float like huge, opaque bubbles on the surface of the lake, punctuating one of the most known and impressive views in a sweeping line from the main house across to the Hundy Mundy folly on the horizon. These pure white shapes disrupt the wide-open space of the water and play with its scale, surface and light, bringing a sense of scale to the landscape.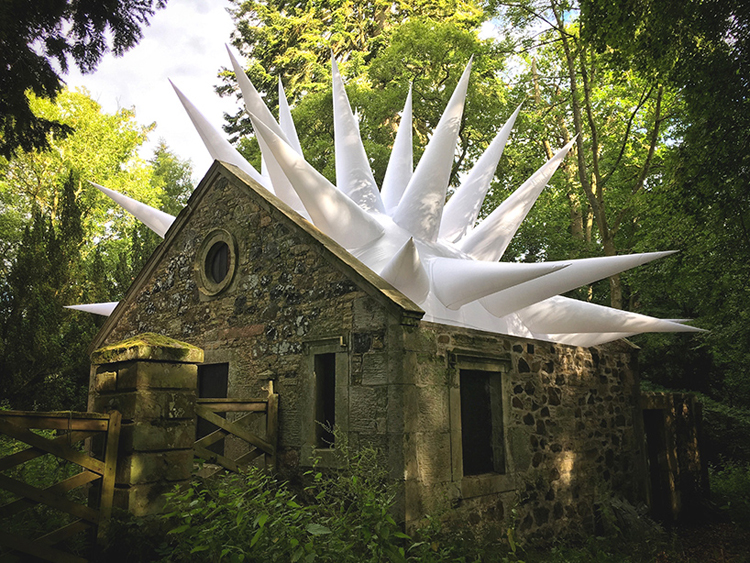 Pointed sits within the former gatehouse and Pekingese stud and fills the void inside the building, extending out from the long absent pitched roof that the inflatable form itself mimics. From this re-imagined roofline 28 dynamic, elongated peaks rise over three metres into the air, like a starburst or an explosion frozen in time. Towered emerges from the curved walls of the ruin of the old laundry near the beck, its column-like forms standing over eight metres high.
Steve Messam is an environmental artist based in County Durham who has worked internationally and mainly outside a gallery context for over two decades. His ephemeral, site-specific installations re-imagine the everyday, interrupting historical places and vacant architecture to enable new ways of seeing the familiar environment. His works frequently draw on existing uses of the land and reflect an understanding of the geological, cultural and agricultural practices already being used to shape the landscape.
"I was interested in what makes Mellerstain special. The main house is a rare complete Robert Adam building and the historical significance of the Reginald Blomfield redesigned gardens that make Mellerstain a true architectural gem," says Meesam about the project. "The pieces draw on that architectural significance, both in the use of historical buildings and the designed landscape. As interventions they speak the language of scale and are all bigger than a house."
Comments
comments