American firm Bates Masi Architects has converted a historic Life Saving Station into a light-filled house just few steps from the beach in the Hamptons amlet of Amagansett, New York. Built over a century ago, the station is part of a network of structures used to provide rescue and relief for shipwrecked sailors, and it was from this station that a guard once discovered Nazi invaders coming ashore during World War II.
Designed with lookout towers, weather-protected cupolas and elevated decks, the stations offered many views for the crews to survey the horizon through all seasons.  Inside, large, open storage rooms often featured boats, oars and other useful items hung from exposed beams for easy access.  Taking cues from this structure, the design of the new residence strikes a dialogue with the landmark to enrich the experience of the new home and celebrate the local history.
The materials were selected for their proven durability in coastal environments. "As each material weathers over time, the appearance of the siding will record the cycles of rain, sun, freeze and thaw," expalin the studio. The cedar will lighten, while the bronze will develop a dark brown patina and the weathering steel will further rust.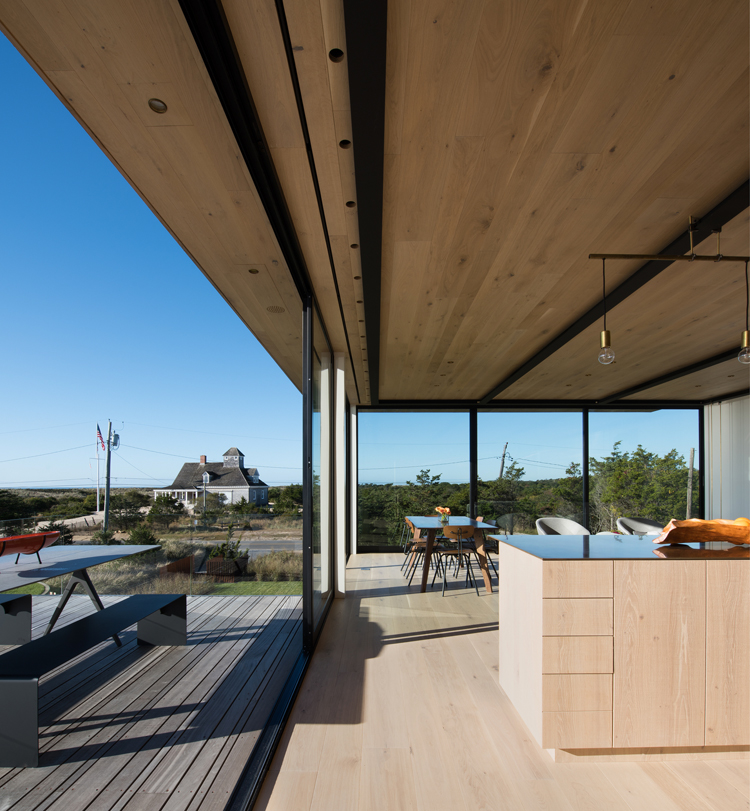 In a modern reinterpretation, the residence features an exposed steel structure which defines the main living spaces and forms a framework onto which other functions can be hung: the main stair is strung from beams above, and the rods used to support each tread serve as guardrail for the stair; a wood burning stove sits on a suspended steel shelf; light fixtures are fastened to the flanges using standard beam clamps; a swinging chair hangs from the cantilevered living area above.
The upper storey contains entertaining and living spaces, along with a roof deck lined with glass railings. To minimize the impact of the footprint on the sensitive ecological environment, the main living area is stacked above the bedrooms, and, like the lookout towers of the stations, an even higher roof deck provides elevated views of ocean.
all images courtesy of Bates Masi Architects