Created by XEX for American skincare brand Dr.Jart+, Prismverse is an interactive installation that let visitors to be immersed in an audiovisual experience of splendors.
The installation is inspired by light rays traveling in a diamond with Brilliant cut – a form that produces the highest brilliance with a maximized light return through its top. With a complex geometrical tessellated mirror wall, the highly illuminated interior becomes a metaphor for the instant tone-up effect of Dr.Jart+ V7 Toning Light.
A journey to unprecedented sceneries of glimmers begins at the touch of the product centered in the space. The audience will be immersed in splendors of our mother nature, ranging from the galaxy and distant stars, rare gemstones, glistens of flowing water and refracted light beams. These resemble the brightening, moisturizing, protective and vitalizing effects of the product once applied on skin.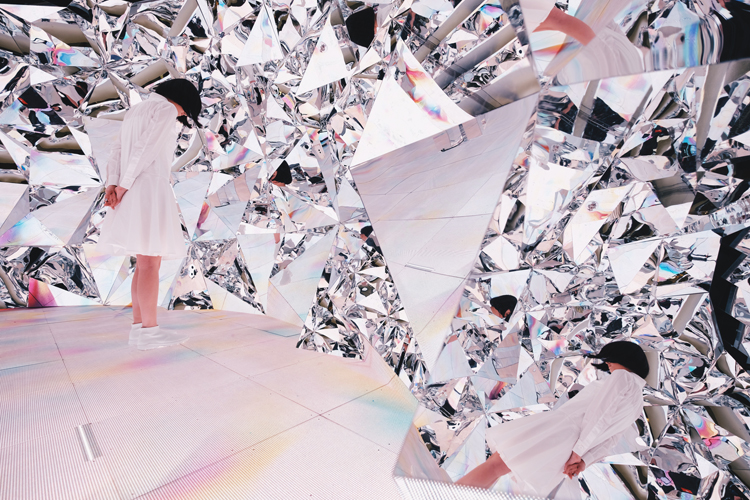 Thanks to the omnidirectional speaker 'scenery' produced by Sonihouse, the audience can be bathed in an ambient soundscape, where the sound is equally distributed to every direction. The audience is most encouraged to pace around and explore brilliance of the world from all angles in Prismverse.
Prismverse's collection of splendors in our mother nature includes the galaxy and distant stars, rare gemstones, glistens of flowing water, and refracted light beams, together brings in an unprecedented experience and aesthetics of shines.
Constructed with 10 meters LED floor and a complex geometrical mirror wall, Prismverse is an image of the paths of light rays inside a diamond.
all images and video courtesy of XEX
Comments
comments