Bangkok-based studio SO Architects has designed this bunker-like concrete house in the Thai city of Chiang Mai in a plot left empty for several years by the owner. The site had been used by locals as a shortcut between 2 local roads, which has created a path/trace almost permanently.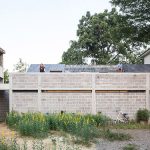 The owner was keen to retain this useful thoroughfare when he commissioned his new home to be constructed on the site, so the path became a feature of the house's design. "The result is a building that fuzzily sits between privacy and public domain, whereas the owner can live his private life within the double enclosed space," said the project architect, Narong Othavorn.
The project is titled Fuzzy House to reflect the indistinct relationship between its private and public attributes. Even though one of the entrances shares the same path that run through the house from front to back, the separated little weed garden that can be seen before entering the house, can only be be reached by entering the house and ascending to a roof terrace, before crossing a bridge over the path and descending on the other side.
The house's ground floor contains an open-plan living room, kitchen and dining area lined on one side by windows that look onto a terrace. This void allows daylight to reach the living spaces at the centre of the building. The ceiling above the living area is stepped and forms a rooftop terrace where guests can relax and watch as people pass through the front yard.
The living space features a colourful mural on one wall and is overlooked by the master bedroom. The ground floor also contains a bathroom, study and garden. The bedroom is adjoined by a large en-suite bathroom that looks down onto the garage at the front. The dark space includes a built-in bathing area connected to a private terrace by a pair of glazed doors.