Asked to express the spirit of the Bill & Melinda Gates Foundation's work and mission in a sculpture, and to create a heart for their new global campus in downtown Seattle, renowned artist Janet Echelman has created an aerial sculpture entitled "Impatient Optimist".
The voluminous form is composed of ultra-lightweight fibers that create an ephemeral presence in the Seattle sky. The artwork is Echelman's most delicately complex sculptural form yet, suspended between two buildings on the campus.
During the day, the sculpture's hues interplay with the changing colors of sky. At night, it becomes an illuminated beacon as colored lighting sequences are projected in real time as the sun rises in each of the foundation's global offices.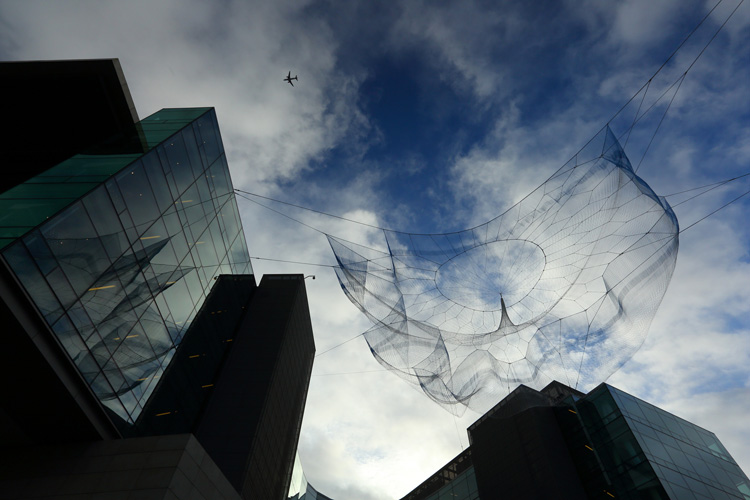 The sculptural form is derived from visualizing the "shape of a day." Echelman considered what it means to be able to experience life in its fullest color – looking skyward for optimism. She took photos of the Seattle sky every five minutes for a full day. Her studio analyzed the color data and graphed the results radially to generate the basis for the form.
The sculpture net is a physical manifestation of connectedness. The number of knots alludes to the notion that the work of a single person can affect a million lives. When a single element of the sculpture moves, every other element is affected.
all images © EMA PETER