During Milan Design Week 2019, Piuarch presents "La Foresta dei Violini", an installation that pays tribute to a lost forest of Fiemme Valley (Trentino Alto Adige, Italy). On the 29th October 2018 a storm and a 200-km/h-wind ravaged a centuries-old natural balance, hitting more than 12 million trees on the Alps. Among these, there is Paneveggio Forest, also known as Stradivari's Forest. A place renowned for the spruces growing there: their wood has extraordinary features, and it has been forever used to make the best acoustic violin sound cases, which master luthier Stradivari chose for his masterpieces. 
Based on a concept by Nemo Monti, Piuarch designed an evocative installation which will stand out in the Main Courtyard of the University of Milan within the Interni Human Spaces event. "La Foresta dei Vilini" is an evocative sign of the lost forest, and its absence. A tribute to the territory, to the forests, to the nature; to the communities that create their crafts thank to that natural environment, as well as to the wood supply chain born on those territories; to the arts that create those wooden instruments and to the artists that those instruments play to give back emotional music. Made of rough wood, using broken trees eradicated by the wind, "La Foresta dei Violini" represents a place of memories, witness of the violated nature, where architecture is both support and relief. 
Two large spruce trunks emerge from the loggia of Main Courtyard of the University of Milan: the roots suspended in the void overlook a balustrade on the courtyard, supported by an architectural easel made of worked red spruce wood. Disrupted trees, segments of memory, evidence of the infringed nature. Roots in the wind.  Architecture remains in between. The easel is an elementary support, the essential structure, which follows the work in all its stages.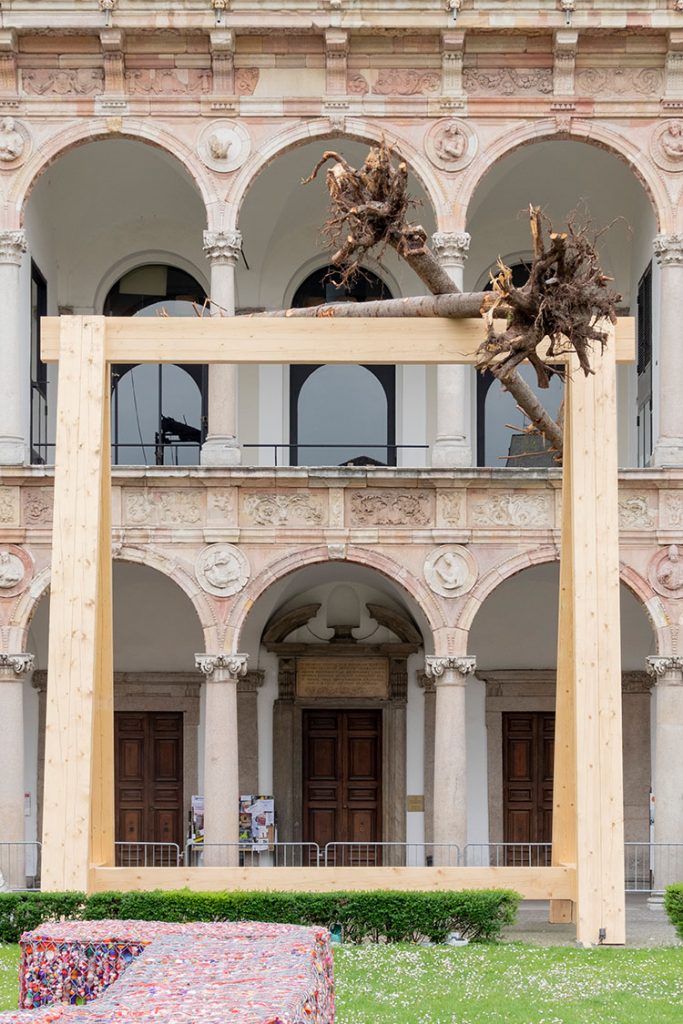 The artifact is a bridge between things and ideas: a geometric shape that lies in the wood carving, in the intersection of straight forms, it is the sum of singularities. It bears the weight, connects different borders, has many names and functions in the human jargon. For these reasons it is the simplest, most common and universal symbol of the ancestral relationship between technique and nature, between raw material and transformation. Made of worked red spruce, it is the archetype of the craftsman work who repairs. The dimensions are amplified, the roles turned upside down, the priorities acknowledged. Nature comes first. 
"We want to celebrate the primordial architecture of the forest, respecting its structures and forms of intersection with the planet and its inhabitants," explains Piuarch. "This project evokes the ability of nature to communicate with human beings, inviting them to tactfully observe its rules, taking care of it and following the natural order of the earth."