Lamborghini has unveiled the Lamborghini Huracán rear-wheel drive Spyder, combining the lifestyle appeal of the convertible with the pure on-road experience of the Huracán's rear-wheel drive technologies.
The rear-wheel drive Huracán Spyder features a newly designed front and rear with a dynamic but more aggressive look distinguishing it from the four-wheel drive version. Its naturally aspirated V10 5.2 l engine sends 580 hp to the rear axle, launching the new Huracán Spyder from 0-62mph in just 3.6 seconds, with a top speed of 198mph.
The latest addition to the Huracán family adopts the soft-top solution of a true Spyder, distinguishing the convertible from its coupe sibling through a unique profile, with roof both up and down. Opening and closing in just 17 seconds at speeds of up to 31 mph, the lightweight soft top is efficiently stowed to maintain the Spyder's perfect center of gravity and highlight the dynamic design of the open car.
With the roof down, two distinctive fins rise out of the folding roof-casing to perfectly define the unique lines of the open car. Accenting the Huracán Spyder's low, powerful appearance, the rear fins start at the seatbacks and continue the roof line to the rear, creating the Spyder's flowing profile. The two fins contribute to optimizing airflow through the engine compartment, which is covered by a slatted engine bonnet specific to the Spyder.
The ANIMA (Adaptive Network Intelligent Management: 'soul' in Italian) button on the steering wheel allows the driver to adopt different driving modes, calibrated to suit the spirit of the rear-wheel drive model. STRADA for daily use, SPORT for sporty driving fun, and CORSA for maximum track-oriented performance are tuned to provide over-steering characteristics, emphasizing authentic rear-wheel drive behavior.
As in all Huracán models, cylinder deactivation improves engine efficiency, reduces fuel consumption and reduces CO2. When full engine capacity is not required, five of the ten cylinders are temporarily deactivated by switching off one cylinder bank. When the driver accelerates, the system switches back instantaneously to ten-cylinder mode, with the changeover being virtually impossible to detect by the driver.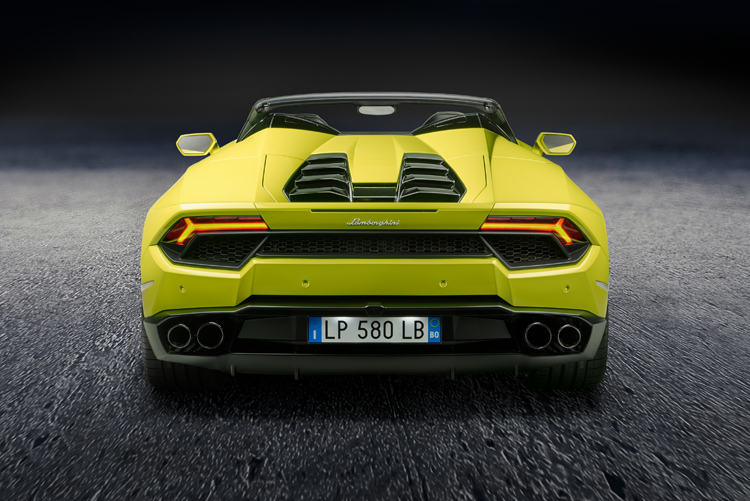 all images courtesy of Lamborghini