Launched on Kickstarter, the Benjamin Brush has been developed by BleepBleeps to help users remember to brush their teeth twice a day and for the recommended two minutes at a time.
"As a parent I know it's difficult to get kids to brush properly – or even at all," says Tom Evans, Founder of BleepBleeps. "We made Benjamin Brush to get everyone more excited for brushing their teeth and to encourage good brushing habits."
Benjamin Brush encourages users to keep brushing by playing their favorite music for two minutes. Millions of tracks can be downloaded from the BleepBleeps Music Store so there's something to keep everyone brushing. To make brushing more effective, Benjamin Brush vibrates every thirty seconds to signal when to move onto cleaning the next part of the mouth.
The app keeps track of how long and how often users brush for. Everyone gets points so users can playfully compete with family and friends, or parents can reward children for good brushing.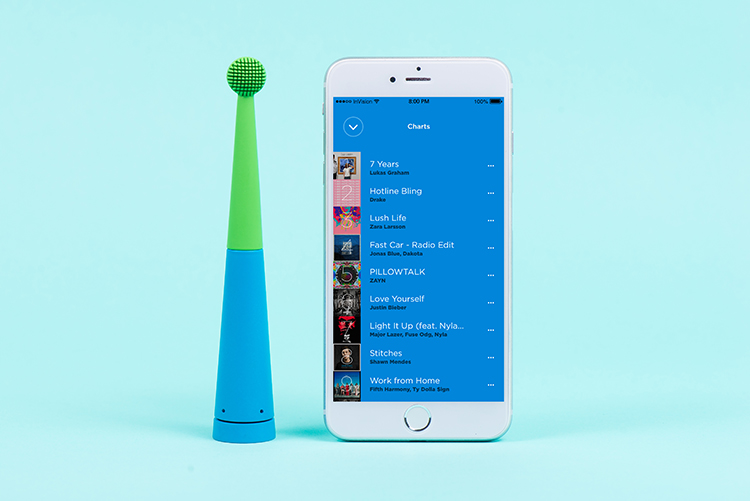 Benjamin Brush has a choice of two brush heads. The Pom-Pom Brush head has omnidirectional bristles to make it easier for parents or toddlers to clean milk teeth. When children get older they can swap to the Big Brush head, designed for older kids and adults. Both brush heads are made from soft, flexible and hygienic silicone bristles that prevent over brushing and protect tooth enamel.
The waterproof Smart Base holds the speaker and the sonic motor that powers Benjamin Brush, producing thousands of pulsations per minute to clean teeth. For convenience it is rechargeable via USB.
Benjamin Brush is available for pre-order on Kickstarter for $60 USD. The crowdfunding campaign runs through to Thursday 12 October 2017.  Backers will receive Benjamin Brush in January 2018. The product will go on sale to the mass market at a retail price of $89 USD.
all images courtesy of BleepBleeps
Comments
comments