Spanish firm Wanna One has converted a six-story warehouse in the center of Madrid into a new urban oasis, called 2060 hostel. The local studio developed the project around Isaac Newton's prediction of the World's end, which influenced its name, 2060 The Newton Hostel & Market, as well as the entire visual universe and concept of the hostel.
"Away from being an apocalyptic or negative message, it is a tribute to life," explains Wanna One. "An invitation to live now, today."
The lobby is open and gathers reception, dining room and boutique. It is a social and meeting space. It is a space where the staff look after the travelers happily, while someone is taking a look at the Boutique of the End of the World products, has a beer or just watches the people passing by. The urgency of living the moment is present from the moment you arrive until you leave 2060. In the front wall, there is a time counter marking the countdown.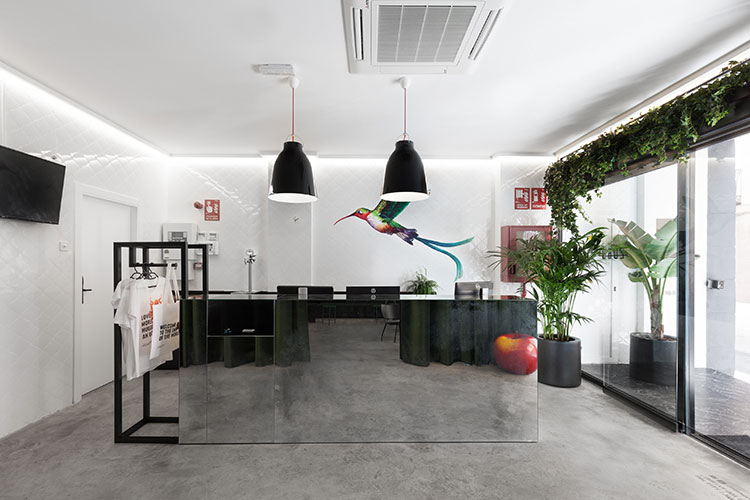 It is the hostel heart, a space alive 24 hours a day to talk, read, work, play, connect, eat. The furniture, very eclectic, adapts every moment needs. A composition of opaque and translucent glasses separates it from the reception, making it intimate and comfortable.
The kitchen is ready for the foodies who want to show off and share their cooking skills, and also for travelers who want to socialize and also for the ones traveling on a budget. It is perfectly equipped and connects with the inner patio, in which the dense vegetation invites to relax and cook in peace.
The wellness options matter, very much, to 83% of Millennials. According to a StudyLogic and Marriott Hotel Group study, it is a decisive point when it comes to booking a room. In 2060, they can find a space full of relaxing and bubbles, with a mint scent, which helps to boosts wellness, after exploring the city.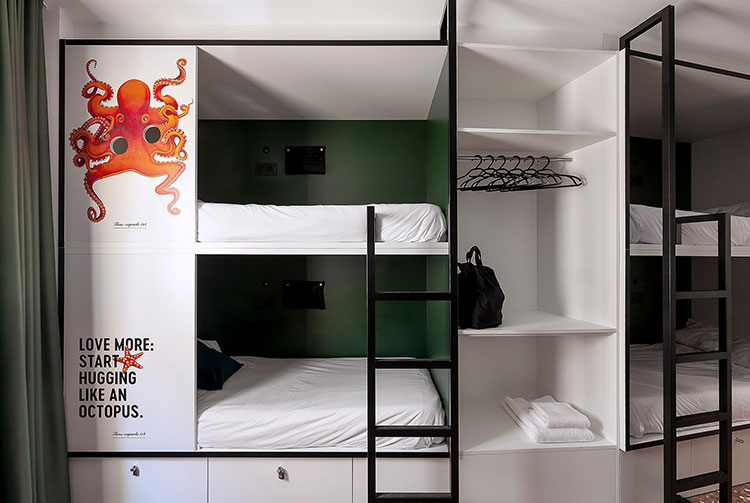 A room is more than a place to recharge one's batteries after a day full of emotions. Every one of 2060 rooms accomplishes five key features: Comfort: spacious bunk beds, easy to access and with interior dark green panels which help to relax; Privacy: a fixed panel isolates you from the rest of the hosts and gives the right privacy to sleep well; Functionality: every bunk bed has an individual adjustable light, wifi, multiple sockets, a wall organizer and individual lockers; Brightness: to optimize the entrance of natural light and get a more diaphanous space, the bunk beds are placed on the walls; Interactivity: the ludic character of 2060 gets even in the bunk beds. You can interact with them and even incarnate Newton himself.
Because no trip is similar to another one, 2060 offers rooms for everyone and all preferences: For groups (max. 12) or for those who want to see new faces. For small groups, only for women, for those looking for privacy or a bit shy. The hostel rooms like Family Room, 8-bed mixed Dorm, 8-bed female Dorm and Private Quadruple Room include free wireless internet, individual climate control and a private safe. There are private bathrooms available.
Comments
comments