Australian practice Luigi Rosselli Architects has recently overhauled and extended this three-storey house built between the late 1950s and early 1960s on the highest point of a ridge overlooking Sydney's Middle Harbour. The contemporary additions bearing all the signature hallmarks of the studio: the sandstone base, the whitewashed walls, and the aerofoil vertical louvres placed next to "log-cabin" exterior wall cladding.
The front of the house features another Luigi Rosselli Architects key element – a lightwell containing an elliptical stair – framed by the sandstone Martello Tower entry porch that, in its "partially ruined" state, opens up to the horizontal whitewashed concrete beams and roof lines that complete the new street elevation.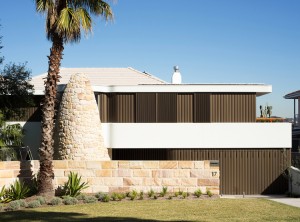 Gentle alterations to the existing house have left ninety-five percent of the original structure standing including the 1950s sandstone fireplace in the lounge, while the additions to the front of the house and the new lower ground floor level at the back have enlivened its somewhat bland appearance.
Internally, the interiors created by Romaine Alwill incorporated the client's favourite Mediterranean Blue colour into a timeless palette to create a comfortable and luminous family home that is ready to survive another 50 years.
images by Justin Alexander / Edward Birch