Developed for the fictional character from Joseph Losey's movie The Servant, experimental architecture studio Bureau has built 'Mr. Barrett's house' in Geneva, Switzerland. Bureau founder Daniel Zamarbide used a process he describes as "surgical intervention" to slice the building open, tear out its interiors, and then reassemble with a far more complex layout.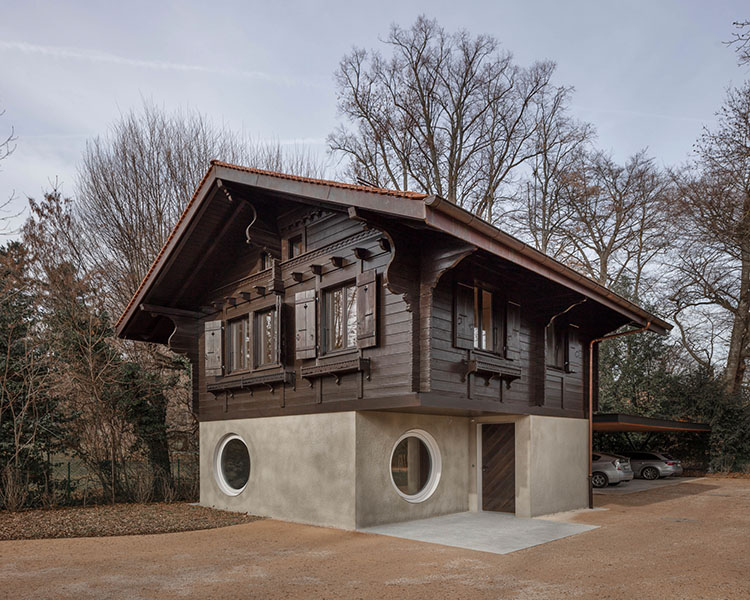 There was no client for the project so Zamarbide instead designed the building for Hugo Barrett, the lead character in Joseph Losey's film, who becomes embroiled a struggle for power in the household. "Internal architecture could name the process through which Mr. Barrett's House has gone through," explained Zamarbide. "Everything has been developed from the inside," he said. "There is a clear logic to do so when architecture has to face spaces of intimacy."
The top half of the building, which takes the form of a traditional Alpine chalet, was completely removed and restructured. It was then placed back atop of the building's concrete base, which originally was used as a car garage.
The two floors are spatially linked through a series of relatively complex sections that create a richness of perception and a feeling of space within the small volume. Bureau develops a majority of domestic projects concentrated on space making, creating voids where the inhabitants can experience the bodily feeling of projecting one's perception into space. The goal of this is to create interiority, richness, perceptive experiences that can simply enrich the inhabitation experience.
In the case of Mr. Barrett's house, a new wooden (birch wood) all-over atmosphere is "injected" into the volume, composed now by two full floors. Spatial connections are favored, enhanced, but in a subtle way in order to produce a multiplicity of points of view. The house tries to be a dynamic actor for the future inhabitants, to participate in the everyday life of the users.
In terms of preservation and renovation, the palimpsestic character of such a building is completely assumed. Its history and nature are made out of successive layers that module its life. This is one of the reasons for the creations of round holes in the façade. They affirm their contemporaneity which will disappear with time and become part of the vernacular nature of the building. It is an ever-changing process that accepts the time. The interior is approached with care and delicacy, especially in the so important details of such an intricate space. Among other features, the ladder inside one of the upper rooms makes a direct reference to Aby Warburg's study of the Hoppi Indians.