Until January 17th 2016, The Jewish Museum and Tolerance Center will host the first solo exhibition of works by Anish Kapoor in Russia, to coincide with the Moscow Biennale.
'My Red Homeland' exhibition in Moscow includes four major sculptures from integral though distinct bodies of work in the artist's sculptural language: voids; mirrors and the auto-generated. Rendered in pigment, steel and wax, the works epitomise Kapoor's manipulation of matter to create a landscape and geology that is both other and sublime.
"I am interested in sculpture that manipulates the viewer into a specific relation with both space and time. Time, on two levels; one narratively and cinematically as a matter of the passage through the work, and the other as a literal elongation of the moment. This has to do with form and colour and the propensity of colour to induce reverie. Consequently, I hope, an elongation of time. Space is as complex, the space contained in an object must be bigger than the object which contains it. My aim is to separate the object from its object-hood."
Till November 2015, other works of Anish Kapoor are also going to be exhibited in the gardens of the Palace of Versailles, France.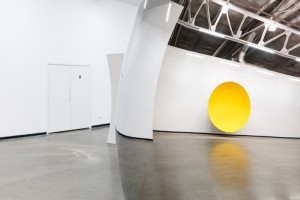 all images courtesy of The Jewish Museum and Tolerance Center © Anish Kapoor, 2015