Guangzhou-based Pone Architecture won the AAP American Architecture Prize for their pavilion Transparent Shell. The whole structure consists of 30 main bone models and 3 groups of large curves. Through multiple layers of woven and crisscross transparent films, an interface of dynamic tension is unfolded with the whole space filled with flowing dynamics. Between concurring and conflicts, it produces various functional spaces, such as entrance, wall, ceiling, window, desktop or seating area. Visitors may feel free to use them and imagine the meaning of different "shell" functions, thus constructing a space with "flexible and functional ideas".
Being translucent and unstable, the spaces gleam with light and shadow and keep changing between manifestations and fading. The multi-layers of open combinations are the new representation and interpretation of internal and external open sites that interact both inside and outside. Derived from concepts, Transparent Shell gains inspiration from a rich variety of sequences in nature. By dissecting, extracting shell structures and restructuring, it reveals the tension of life evolution.
Transparent films are chosen to connect the interface of the shell. They are woven like silks, steady but also taking on an organic and casual form. Penetrated by the light, the texture produces a flexible and changing effect of light and shadow, thus constructing a translucent, dim, intensity-varying, stable yet uncertain world. The main body of the structure is comprised of metal frames and a large number of irregular curved steels. Each of the 30 arched frames varies in its undulating rhythm, irregular and poly-directional.
Pone Architecture has been named a winner in the first annual AAP American Architecture Prize, which recognizes the most outstanding architecture worldwide. The AAP American Architecture Prize honours exceptional designs in 41 categories across three disciplines: architectural design, interior design, and landscape architecture. Pone Architecture won Gold in the Interior Design/Exhibition category for Transparent Shell.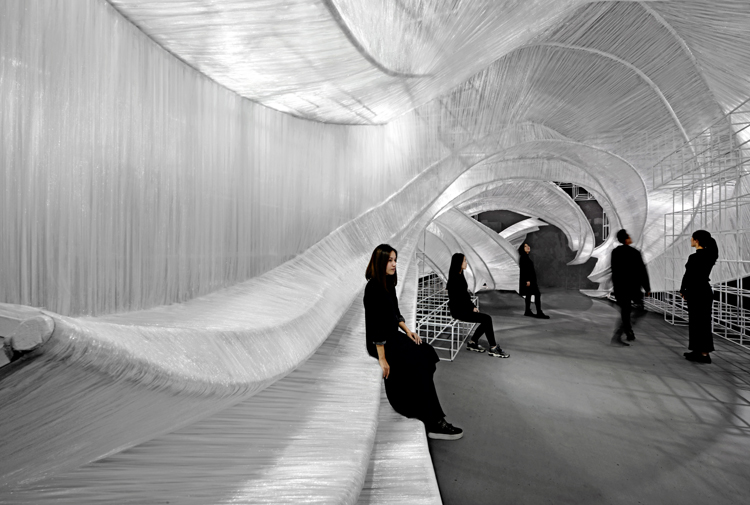 all images courtesy of Pone Architecture