New American carmaker VLF Automotive has unveiled its Force 1 supercar during the North American International Auto Show (NAIAS) in Detroit. The two-seat, all carbon fiber-bodied Force 1 is a high-performance, low-production sports car, manufactured in Auburn Hills, Michigan by the newly launched company lead by legendary automotive designer Henrik Fisker and American race car driver Ben Keating.
Force 1 embodies Henrik Fisker's design language, which underpins all VLF Automotive cars. With Fisker's signature balance between proportion, sculpture and graphics, the exterior design of Force 1 boasts classic American sports car proportions with a long hood, short front overhang, long tail and pushed out wheels.
The sculptural hood has unique, large, negative surfaces with six highly needed air intakes and outlets for the 745-HP 8.4 L V10 engine. The windscreen wraps around into the side glass, followed by an elegant, yet aggressive side line sweeping up towards the rear deck. The graphics are uniquely sleek with ultra-thin lights in front and UTV laser-blade tail lamps, the thinnest tail lamps in the world, at the rear. The day light opening, or side window, has a completely new and never before seen graffic that ends up in a sharp spear.
Force 1 incorporates downforce elements such as the deep front spoiler and aggressive rear diffusor in pure visible carbon fiber. At the top of the rear glass sits a unique rear wing spoiler also housing the in car Wi-Fi and third brake light.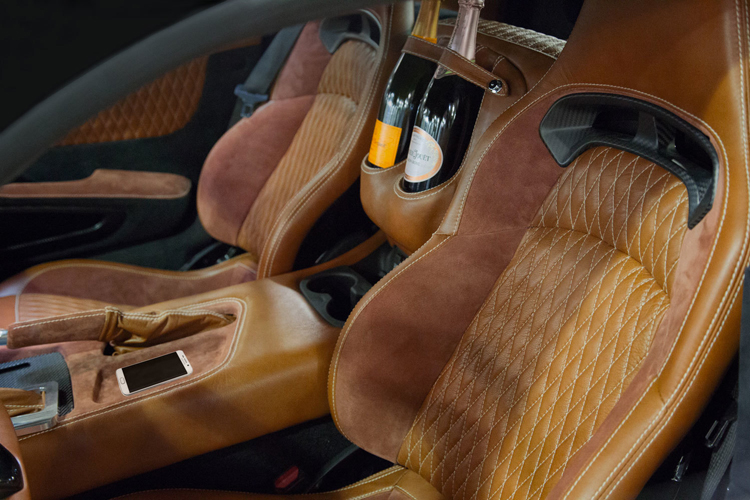 Both the front and rear signature Henrik Fisker wheels have a concave section design to improve strength of the wheel, requiring less mass. The 21-inch aluminum wheels with wide high-performance Pirelli tires sits in lean, sculptured, pronounced wheel arches. The front features an aggressive grille housing the VLF logo in the center and two ultra-slim lights sitting above the grille. The interior is luxurious, with hand stitched ultra-soft leather, Alcantara, suede with several other unique features, such as a champagne holder.
Production commences at the end of April 2016 in Auburn Hills and deliveries begin in third quarter 2016, with the base price starting at $268,500 USD. Force 1 V10 will be produced in limited numbers with an initial production of only 50 units.
all images courtesy of VLF Automotive