Led by architects Yu Lei and Xu Feng, Beijing's Laboratory for Creative Design (LCD) has been awarded the Guinness World Record for the world's largest 3D printed architectural pavilion. At 8.08m long by 2.88m tall and made up of 1023 individual 3D printed units, the unprecedented structure, dubbed "Vulcan" is presented as part of Beijing Design Week 2015 at Parkview Green, one of the city's premier retail destinations.
Challenging preconceptions of 3D printed objects as limited to souvenir making, or small-scale objects, LCD's designers have developed radical new ways of applying the technology to construction. The system, based on LCD's long-term research in to the spatial form of cocoons represents a complete breakaway from the traditional method of arch construction.
"Vulcan represents a new reality – that modern architects are able to achieve their ideal design quality from concept to construction using digital design and fabrication methodologies. This development will increasingly blur the boundaries between technology and art." said LCD's Yu Lei.
Named after the latin term for volcano and the God of Fire in Roman Mythology, Vulcan symbolises a sense of fear of and respect for the unpredictable forces of nature, while suggesting the fragility and courage of human civilisation. The arched structure is akin to a mushroom cloud that forms during a volcanic eruption.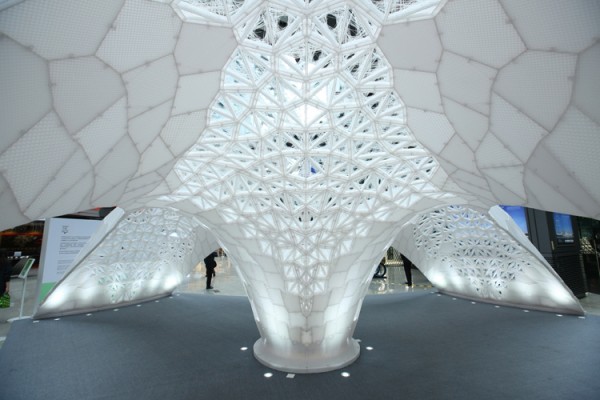 all images courtesy of Beijing Design Week