Employee ownership has been rising in popularity since 2014, especially amongst architecture businesses, but why? Employee ownership schemes allow employees to own shares in the company they work for and take responsibility for its success. These employee ownership models are popular amongst specific types of companies, and no more so than the architecture sector, which has seen real success with it.
An employee ownership advisors will be able to help you plan and implement this new employee-retaining strategy. Before you dive right in, though, you might be wondering what this is, and why should you think about taking this idea further.
In this article, we're going to give you a brief overview of what employee ownership schemes are, and why they're a useful model for an architecture business. We'll then talk about why they might become more popular in the age of COVID-19. So, for all the information you need, you came to the right place…
What is Employee Ownership?
Employee ownership schemes allow all employees to acquire shares in the company they work for to the benefit of both parties. Employee ownership models provide two ways for employees to own shares in the company:
Direct employee ownership: the employee owns shares in the company directly and is able to buy them at a tax-efficient rate.
Indirect employee ownership: part of the company is owned by a trust who work on behalf of the employees.
Employee ownership schemes are the most widespread type of employee ownership in the UK. In fact, over 2 million employees own shares in their company through one of these models.
The reason these schemes were created was to build connective tissue between the profits of the company and the company's workers. By owning a portion of the company, employees have an incentive to help the company succeed.
The employees often receive other financial benefits, including national insurance and income tax-breaks on bonuses and the money they spend on/receive from the shares. 
Types of Employee Ownership Schemes
There a few different employee ownership models that are worth looking into, but the ones with tax advantages tend to be the most popular. Here's a list of tax advantaged schemes you can implement into your business: 
Save as you Earn (SAYE)
Company Share Option Plan (CSOP)
Share Incentive Plan (SIP)
Enterprise Management Incentives (EMIs)
Employee Ownership Trust (EOT)
All of these schemes have their own tax benefits, employee benefits and general rules that need to be followed. So, it's worth digging into them a little more before you decide which one you'd like to implement. 
Why Employee Ownership is Suitable for an Architecture Business
Employee ownership has become incredibly popular amongst architects. Figures from the Employee Ownership Association show that 15 of the UK's top 100 practices implement the model, demonstrating how worthwhile it may be.
The association also lists several well-known names amongst its members, including Bennetts Associates, Architype, Donald Insall Associates and Cullinan Studio. Clearly these models are popular amongst architectural practices, but why is that?
Succession Planning

 
Under the traditional director-ownership model, it's often difficult for retiring directors to find suitable staff to buy out their shares. There also tends to be lots of disagreements on who should buy the company out, not to mention all the expenses and practical difficulties.
Younger people working for the company are usually in debt, especially architects who spend seven years studying before they're qualified to work. So, they can't afford to borrow in order to buy shares in the company.
These issues partially explain why so many architects, and other businesses, are opting for the employee ownership model. This way, the company is shared amongst its employees, no-one needs to borrow to buy in, and the succession of the business is already sorted for you.
Tax Breaks
In a bid to encourage businesses to take up the employee ownership model, George Osborne announced two major tax reforms in 2014 aimed at simplifying the conversion process: 
Sales of shares in a newly founded employee ownership trust were relieved from capital gains tax, but only if the majority of the company's shares were sold.

 

Trading companies owned by one of these trusts were allowed to pay bonuses to their employees of up to £3,600 a year, free from income tax.

 
In an article written by the Architects Journal, Neil Farrance, director at Formation Architects who switched to an employee ownership model in 2016, said: "Without the tax break, it was an extremely expensive move – you have to defer profits or find extra money, which all takes attention away from the day-to day-architecture business."
This is the reason that so many businesses have switched to the model since 2014; the tax breaks lower the start-up costs and allow companies to actually switch over.
Staff Involvement
One of the major employee ownership benefits is having a workforce who will hold you to account for your mistakes and help you fix any issues with the business. Some architecture businesses have reported an initial difficulty in building an open forum for staff, as it's not something they're used to doing in the beginning. A few years in and the staff start to warm up to the idea, and the strength of the forum grows over time.
Despite this initial slow start, the employee ownership scheme opens opportunities for staff to progress to senior levels without having to shell out a load of cash on shares. This tends to lead to greater staff retention, particularly amongst millennials who, like we said, don't have the money to buy shares outright.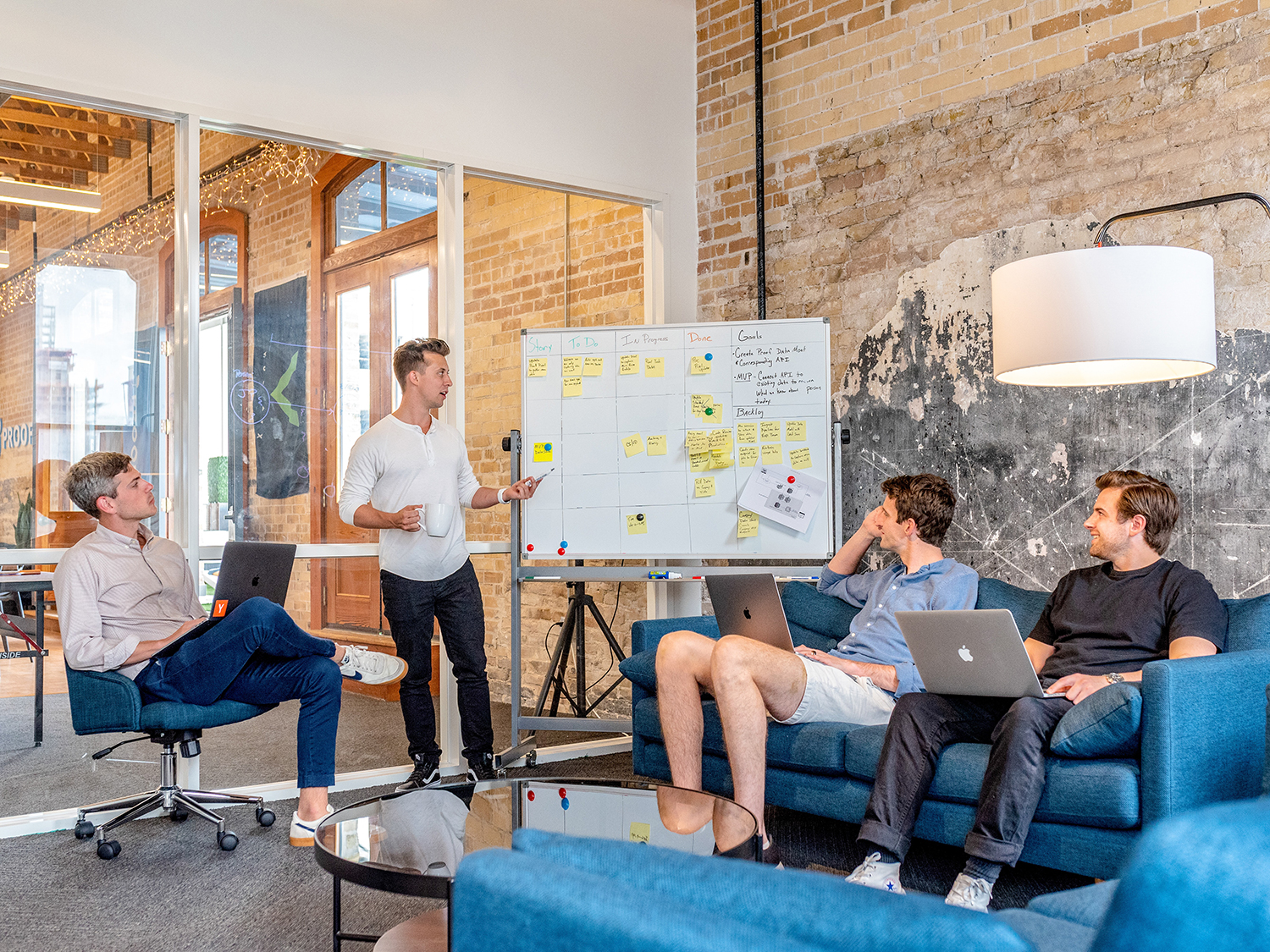 Quick to Implement
People often think setting up an employee ownership scheme is extremely complicated, and they don't have the time or resources to do so. Whilst these schemes can be costly to manage, they only take around two to three months to actually set up. 
Speaking to a specialist advisor is the best way to go about this. To try and save money where you can, getting an accountant on board to deal with the financial side is also key. 
Perfect Fit for the Architectural Practice Structure
In the article we mentioned earlier by the Architects Journal, all the architectural practices they spoke to who have implemented employee ownership had no regrets about the move. They said the model fits perfectly with the egalitarian, flat hierarchies of architectural businesses. 
Above all, employee ownership allows architects to get on with what they enjoy doing, whilst leaving the business side to trusts or employee ownership managers.
A Case Study
A good example of how employee ownership works in practice is Make Architects, who adopted the scheme when they created their practice in 2004. On their website they explain: "Our employee-owned structure has proven to be the perfect fit for our collaborative culture. Together, they create a workplace of equals, regardless of role or seniority.
"Decision-making is a big part of it. In the Make Forum, Makers discuss issues such as performance reviews, design process, diversity and knowledge-sharing. This transparent consultation process provides a platform for Makers to voice their questions, concerns, interests and opinions – all of which feed into the decisions we make.
"The annual profit share is another key benefit of employee ownership. It's a perk that makes everyone that much more invested in the success of the company, which ultimately benefits both employees and clients."
Why Employee Ownership Might Work Well During the COVID-19 Era
As businesses evolve in the wake of the pandemic, a greater number of employee ownership run companies will emerge in the coming months. This is according to Douglas Roberts, who has advised more than 10 of these deals over the last few years.
In an article by Scottish Legal, Mr Roberts said: "The impact of coronavirus has exposed the need for businesses to have greater financial resilience. Employee ownership provides that, meaning it will undoubtedly become even more prevalent as companies stabilise their position and plan growth as part of post-pandemic plans."
Roberts goes on to state that he expects an increase in EOs, and cites some of the benefits referred to them. He states that staff ownerships increase innovation, performance and productivity for the company.
In a recent survey, 73 percent of employee-owned companies said they believe their employee ownership model will help them through the COVID-19 crisis. The benefits cannot be overlooked by businesses.
Should you Consider Employee Ownership for Your Business?
Today, we've covered what employee ownership is, and how it is a beneficial system for architectural businesses specifically. We've also shared predictions from experts who believe it will help those companies who implement it through the COVID-19 pandemic. 
Hopefully, this information has given you pause for thought on whether employee ownership is the right choice for your architectural practice or business. Thank you for reading this post and we wish you luck throughout these difficult times.