As a first outdoor installation, Emmanuelle Moureaux has transformed the space in Shinjuku Central Park in Tokyo using full spectrum of floating colors. Having high rise buildings in the background, the 100 colored strands dance in the breeze, as if they are breathing in and out, creating a dynamic motion. This is the 2nd exhibition of the '100 colors' series, which she plans to exhibit in different cities around the world.
"When I first arrived in Tokyo, I was fully fascinated by the colors overflowing on the street. In that very moment, my mind decided to move to Japan. Overwhelming number of store signs, flying electrical cables, and flashes of blue sky framed by various volumes of buildings, created three dimensional 'layers' in the city. The flood of various colors pervaded the street
built up a complex depth and intensity in the space. These indelible experiences of colors and layers in Tokyo were the inspiration and essence of my design concept of "shikiri", which means dividing (creating) space with colors. Valuing the emotion inspired from Tokyo, I want to show the beauty of colors to the fullest extent. I also wish to share the feeling of being surrounded by overflowing colors by exhibiting 100 colors, here in the middle of Tokyo. Please come and find your favorite color. "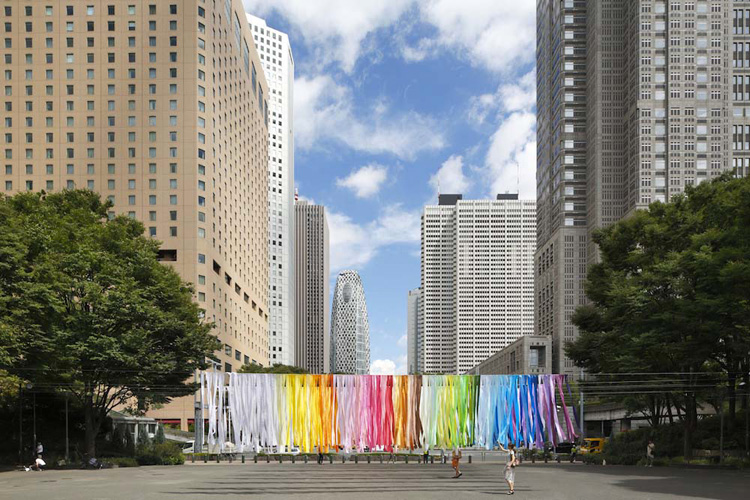 In 2013, the first '100 colors' installed specially selected papers to create a floating volume of colors. For this year, textile was chosen as a medium to catch the breeze seaming through the skyscrapers of Shinjuku. The dye compounds were carefully blended to create the unique 100 colors formula, and 1875 strands of textile were hand-dyed one by one.
100 colors are floating and swaying in the wind, coloring the breeze travelling in the city, casting gentle shadows in the summer days of Tokyo. Colors are layered with the high rise buildings, creating an extraordinary scene, attracting eyes of people walking by. Floating colors in the sky of Shinjuku is a breathtaking installation that has given people a little moment to stop by, away from the busy reality.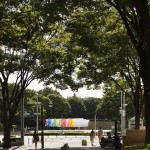 all images © DAISUKE SHIMA / NACASA & PARTNERS