The new YZF-R1M race motorcycle is a special version of the all new R1, designed specifically for the racing track. From the beginning, Yamaha has always faithfully adhered to the mantra, "We Race. You Win." And the YZF-R1M is arguably the truest and most direct representation of that belief. As much as the 2015 R1 bristles with performance, style, and race-bred substance, the R1M actually kicks things up yet another notch, giving you a production Superbike that's as close as you can get to a street-legal M1 MotoGP bike, effectively blurring the line between the two.
The R1M showcases an additional range of highly sophisticated components — including Öhlins Electronic Racing Suspension (ERS), carbon fiber bodywork (upper fairing, side fairings, and front fender), and a Communication Control Unit (CCU) with GPS that enables the rider to capture ride data (including GPS tracking) and then download it via WiFi to the Yamaha Y-trac smartphone and tablet app. Once the data is downloaded, the rider can analyze it overlaid with the track map, make setting changes, and upload those changes back to the R1M.
The R1M's specially developed tires are the result of a joint collaboration between Yamaha and Bridgestone. The 200/55-ZR17 rear tire and 120/70-ZR17 front tire use a special compound formulated to optimize the performance characteristics of the R1 and allow the rider to experience outstanding levels of traction with extreme lean angles.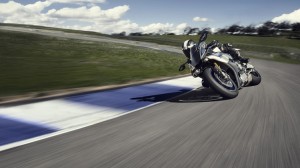 Since the R1M is intended for professional racers and highly experienced riders who demand the ultimate in track performance, less than 500 of the limited-edition model will be available in the U.S. beginning in late February 2015. Offered in a first-of-its-kind Carbon Fiber/Liquid Metal color scheme, the R1M will launched on the market with a price of $21,990 USD.
all images courtesy of YAMAHA