Last night, the winners of the 2017 BRIT awards have received one of five statues designed by the late archistar Zaha Hadid. The design consists of a family of 5 interrelated trophies take the form of abstracted female figures representing diversity. Following Hadid's passing, the project was carried out by Zaha Hadid Design Director Maha Kutay and the BRIT Awards' Niamh Byrne, who set to follow through on the late architect's' vision.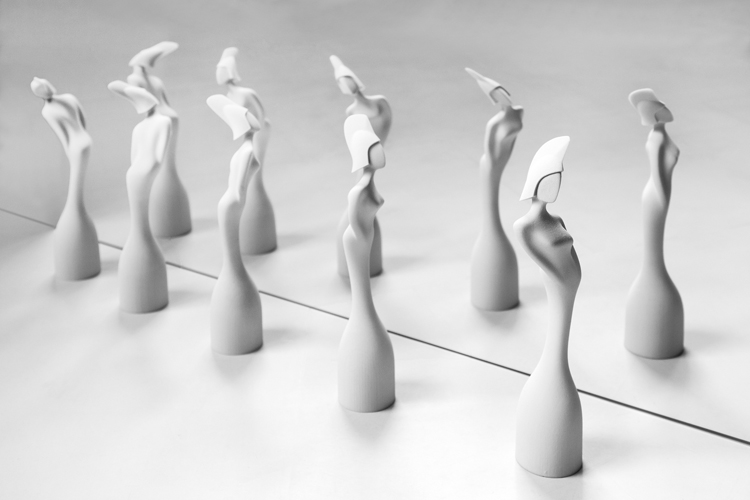 "Zaha was truly excited to be doing this.  Her vision was, being an architect, to focus our efforts more on the 3D element, as the statue had previously been used as a canvas for artists to paint on for the last few years," explains Maha Kutay about the design. "The design expresses our unwavering optimism for the future and a break from the norm. The biggest challenge was to create something new within certain guidelines, yet achieving a result recognisable to the public."
A huge music fan, Hadid had cited a range of artists including Drake, Bryan Ferry, The Beatles, Sam Smith and Adele amongst her favourites in an interview with Desert Island Discs shortly before she passed away. In 2015 she partnered with Pharrell Williams to collaborate on a design for a pair of trainers.  At the time Williams said, "I'm a huge fan of Zaha's.  I would venture to say that she's one of the most talented architects of our time, and of history in my opinion."
"We are delighted with the finished statues," said Brit Awards chairman Jason Iley. "Like Zaha, they are innovative and original and have gone well beyond our expectations to create something special that will progress the award into the future."
Previous designers of BRIT Awards statuettes have included artists Artists Damien Hirst and Sir Peter Blake.
And here it is!!! Our BRITs 2017 trophy in all its glory. Designed by Zaha Hadid Architects. www.brits.co.uk/news/first-look-2017-trophy

Pubblicato da BRIT Awards su Giovedì 1 dicembre 2016
all images © Luke Hayes | courtesy of Zaha Hadid Architects