The opening of the 2020 Serpentine Pavilion designed by Johannesburg-based practice Counterspace, has been postponed until 2021 due to the coronavirus pandemic. Counterspace's structure was due to be open on 11 June 2020, marking the Serpentine Gallery's 20th summer pavilion.
British architect David Adjaye, who is an advisor to the Serpentine Gallery and helped select Counterspace, said the postponement was needed to provide time to produce the pavilion following the UK lockdown.
"The global COVID-19 crisis has changed the immediate context. Rather than rush to execute Counterspace's stellar design as soon as it is safe to do so, the Serpentine has chosen to accept the slowness reshaping society today and utilize it to develop a deeper relationship with the architects," explains Sir David Adjaye OBE, Serpentine Galleries Trustee and Serpentine Pavilion Advisor. "We look forward to working with Counterspace over the next twelve months to draw more meaningful connections between their Pavilion and the people, communities, and nature of London. While the circumstances that have prompted this evolution are by no means easy, we believe it is an important opportunity for this Pavilion to stand as a bridge of sorts between either sides of this unfathomably significant time in history."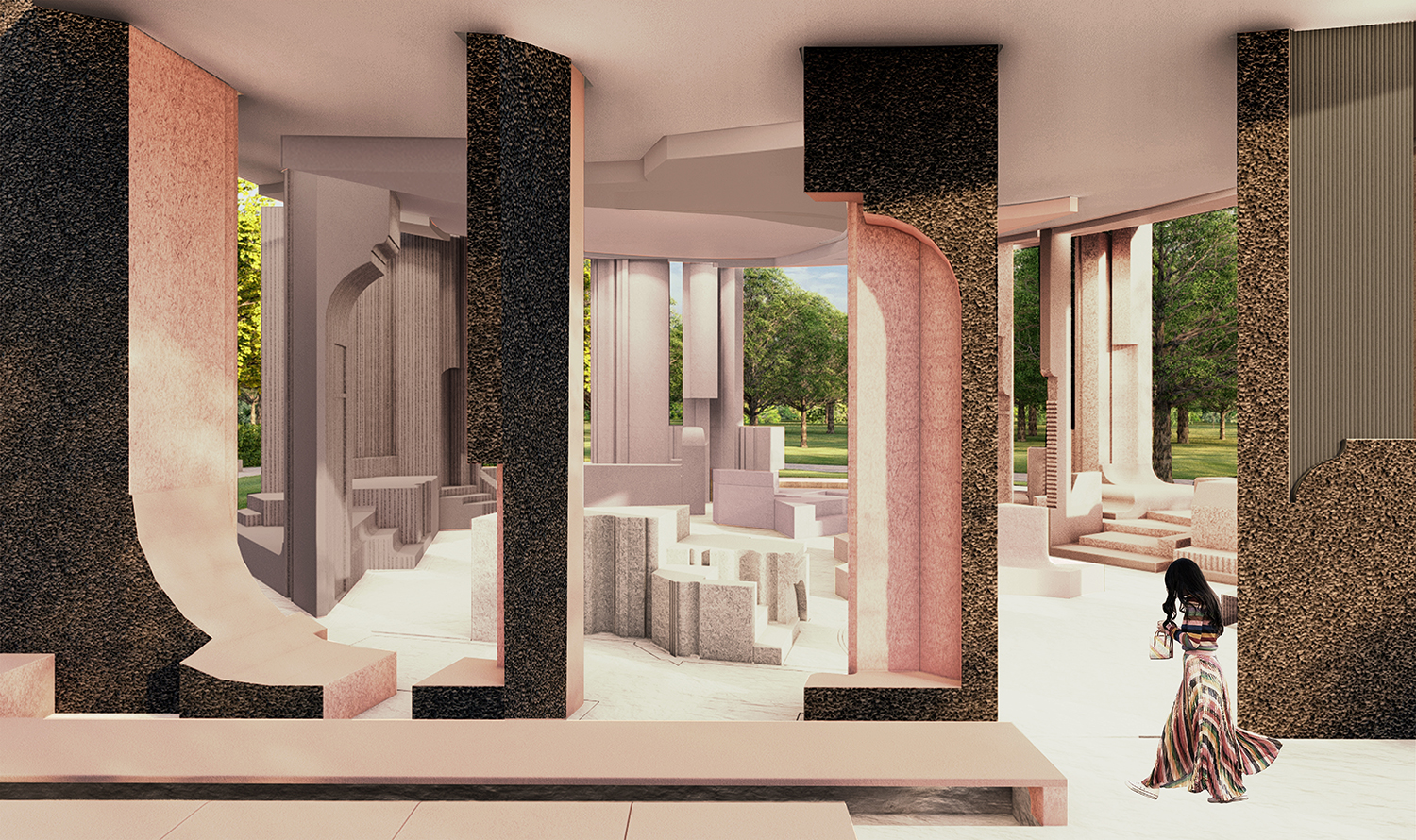 "We've always relied on places of gathering to come together and we miss them when they're gone," said the lead architect on the project, Sumayya Vally of Counterspace (image below). "COVID-19 has brought the Pavilion themes of community and gathering sharply into focus – allowing us the opportunity to extend and deepen our engagement process over two years. We are excited to launch a set of initiatives that will redefine and celebrate the role of gathering and the construction and preservation of belonging in times of crisis – reversing the original procession, so that a cascade of dialogues, events, programmes and fragments of the Pavilion will pop-up incrementally in real and digital space over the course of 2020 coming together in 2021 in Kensington Gardens to form Pavilion 20 plus 1."
"Counterspace's Pavilion has developed in tandem with Back to Earth, our multi-year initiative responding to the environmental crisis," adds Bettina Korek, CEO, and Hans Ulrich Obrist, Artistic Director, Serpentine Galleries. "Ecology, community and other themes of Back to Earth are intrinsic to Counterspace's practice as well, and these only grown more meaningful during the time of social distancing and planetary struggle. We are fortunate to have this opportunity to take more time to collaborate with Counterspace and our community partners on their commission. Back to Earth inaugurates our commitment to making 'Slow Programming' that expands beyond the conventional limits of museum activity. We are grateful to the architects for their vision and to all our supporters who make it possible for us to continue our work of evolving the Serpentine's role in a rapidly changing society."
The coronavirus outbreak has caused a number of architecture and design events scheduled for spring and summer 2020 to be postponed or canceled.
Milan's Salone del Mobile has been cancelled and will next take place from 13 to 18 April 2021, while the start of the Venice Architecture Biennale has been delayed from May to August.