A hotel is always a universe in its self, the concept of a Pocket Universe became the central idea for the recently opened 25hours Hotel Zürich Langstrasse by Berlin-based Studio Aisslinger. It is inspired by the title of the album by legendary Zurich electro-pop duo YELLO. 25hours Hotel Zürich Langstrasse views itself as an individual small universe while also keeping up an amorous relationship to its location in the middle of lively district 4.
The Hotel as such is a cocoon, a world of its own that offers sanctuary for a couple of hours – a Pocket Uni- verse. Reflected in the hotel's concept is the unique position of Zurich in Switzerland and Switzerland in Europe, both a natural as well as an artificially created special position as a Pocket Universe.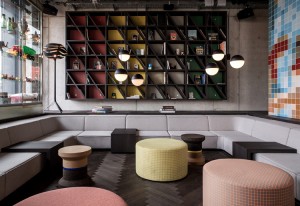 Designer nowadays are like DJs, who sample material from different sources. The team of Studio Aisslinger tries not to create an overall-look that follows a one-fits-all attitude, much rather the team strives to achieve an unconventional collage with an experience to it. Everyday life, like the world itself, is a collage. Today, no one lives in homogenous monochrome designed spaces, quite the contrary is true, a yearning for a combination of vintage, flea market finds, classics, inherited pieces, mixed with archetypical new designs. Everyone is the dj to their own life and accordingly their interior. Therefore it seems more authentic to decorate a hotel in that manner too. The hotel is designed to look as if it had been shaped by life, an acquired hotchpotch. This is the design mantra, the concept that has created the ambience as a whole.
A hotel that is "local" while simultaneously being "global" is achieved by interweaving the guests' experience with that of the locals, the Zurichers of district 4. Favourably Zurich's entrepreneurs meet and work in the lobby and mingle with hotel guests – real analogue social networking.
New 25hours Hotel Zurich is situated at the joint of Zurich's pulsating and legendary Langstrasse and newly developed Europaallee quartier. The 170 room hotel lies at the foot of the train tracks, in front of Zurich's main train station and its design has playfully integrated the area's contrasts of everyday life and red light nightlife, between art and commerce.
The wooden board is a dominant element, lining the room, it serves as wash table, shower shelf, bedside table and bench inside the window. On floors 1, 2 and 3 are the "Red Light" rooms, floors 4 and 5 house
the "Bel Etage", the "Penthouse" is on floors 6 and 7.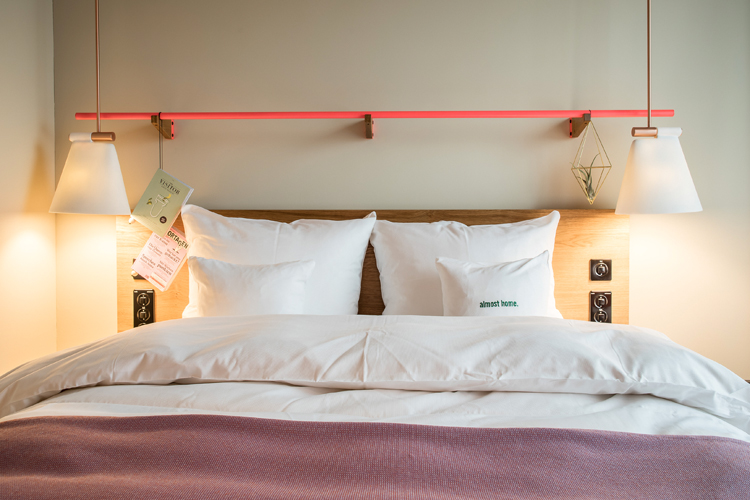 The lounge is reminiscent of a pool that encloses the fireplace. It offers a library as well as a 8 x 4 meter glass showcase, that has been curated by Tim Brauns in the style of a cabinet of curiosities with vintage collectables and other ornaments. Custom-designed coloured module sofas by Tiny Bunyaprasit establish a transition between lounge and bar.
The bar consists of a complete brass sheet module, that extends into a staircase of seats. Beside the bar are four co-working lounge corners with custom-made high- back leather sofas and tiled tables.
Regular guests receive a personalized FREITAG bag made of recycled truck tarpaulins. They are hoisted up by a system of ropes and pulleys that allow the bags to dangle at the top of a steel framework, secured by locks. The abstracted tree construction incorporates the idea of a traditional miners' changing room: all personal belongings are kept on the room's ceiling.
The restaurant's design concept is a collage of South American colours, high-quality textiles, textures and finishes com- bined with raw concrete, scaffolding, plants and coloured mirror surfaces. The metal sheet Kiosk, a hybrid between Pop- up store and traditional newsstand, is run in cooperation with Zurich publisher KEIN & ABER.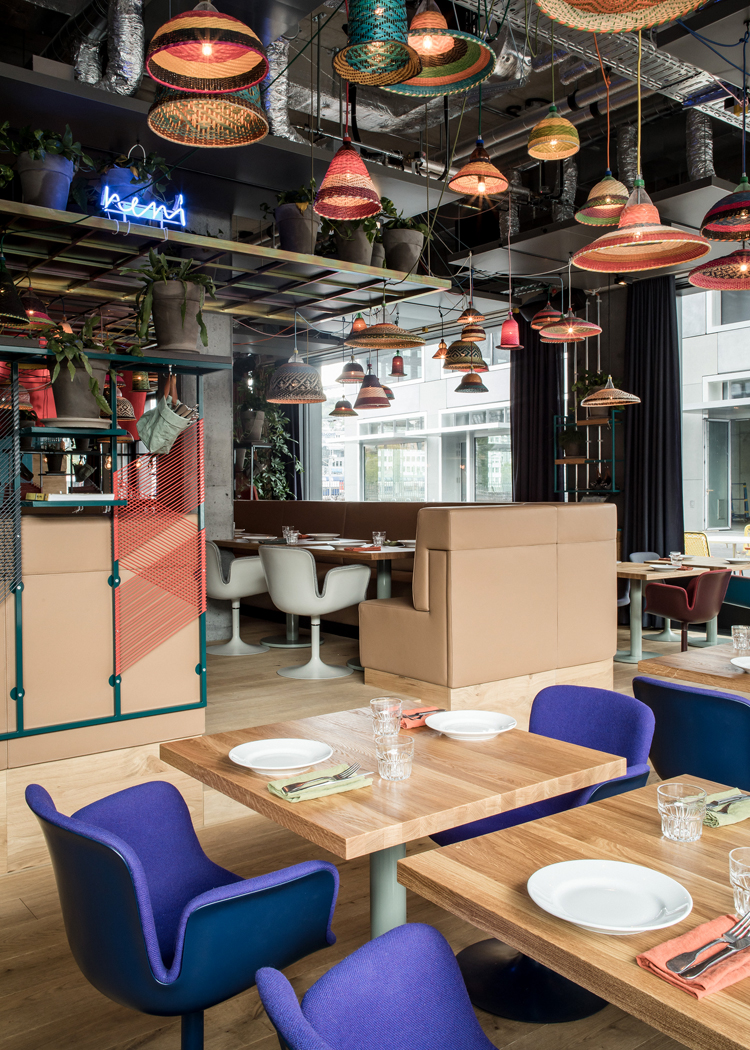 all images courtesy of Studio Aisslinger