New York-based designer Kelly Behun has outfitted the 92nd floor penthouse inside 432 Park Avenue. Located in the heart of Manhattan, this residential skyscraper was designed by Uruguayan architect Rafael Viñoly and completed in 2015. Holding the title of tallest residential tower in the western hemisphere, it shared facilities for residents include a 75-foot swimming pool, a mahogany-panelled conference room and an 18-seat cinema.
Priced at $39.75 million, the 3,977 square foot residence rises above the city skyline at 1,224 feet and features three bedrooms/ bathrooms, a powder room, library, laundry room, service entrance separate from the elevator landing, and a formal entrance gallery. The design for the penthouse references the building's architecture and incorporates bespoke pieces of furniture inside.
"My goal was to create a timelessly elegant space that feels warm and comfortable. My favorite aspect of the apartment has to be the views through those oversize windows," said Kelly Behun. "To have all of Manhattan unfurl below you in this way is nothing short of extraordinary, and nothing I would do inside could ever upstage that, so I just sought to create a warm embrace from which to enjoy it."
The designer filled the apartment with furniture and accessories by New York designers. Artwork was supplied by online platform Artsy, and each of the pieces is available to purchase.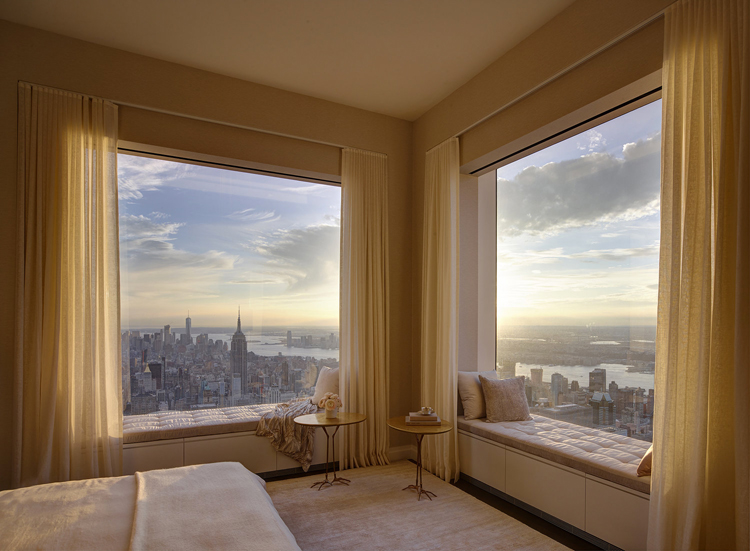 images courtesy of DBOX for Maclowe and CIM group | Kelly Behun