Your backyard can and should be more than an open patch of grass. It is your private property and the only piece of the world you can shape to whatever you desire. It can be a great escape from the mess inside your home, and a safe place for the kids and pets to play. The challenge is really trying to make the space exciting for everyone while not going overboard on the renovations or budget. Here are 5 ways to make any backyard more interesting.
Make It Safer
Everyone would love their children to get more time outside, but some might be worried about their safety. In this case, one option could be to add playground tiles to the play area. Setting these under slides and swing sets will greatly reduce the risk of injury. You could even put rubber playground tiles on your concrete paver to make it a more colorful, attractive place to play. Or, you might install a net around the trampoline. If you're reluctant to install a swing set, try a silly spinner instead.
Bring Out the Games
A great way to invite friends and family to play is to include some games in the yard. You could put hopscotch or four-square patterns on the pavement, or you could install something like a croquet set that's always available to play with. Another option is setting up a hanging curtain set so your children can turn any outdoor space into a stage.
Another thing you could do is set up an outdoor chalkboard. The kids can use it to draw or keep score of all the games that they play. A side benefit for parents is that you'll be able to keep the chalk dust outside. Note that you can attach the chalkboard on the fence so that it doesn't take up additional space.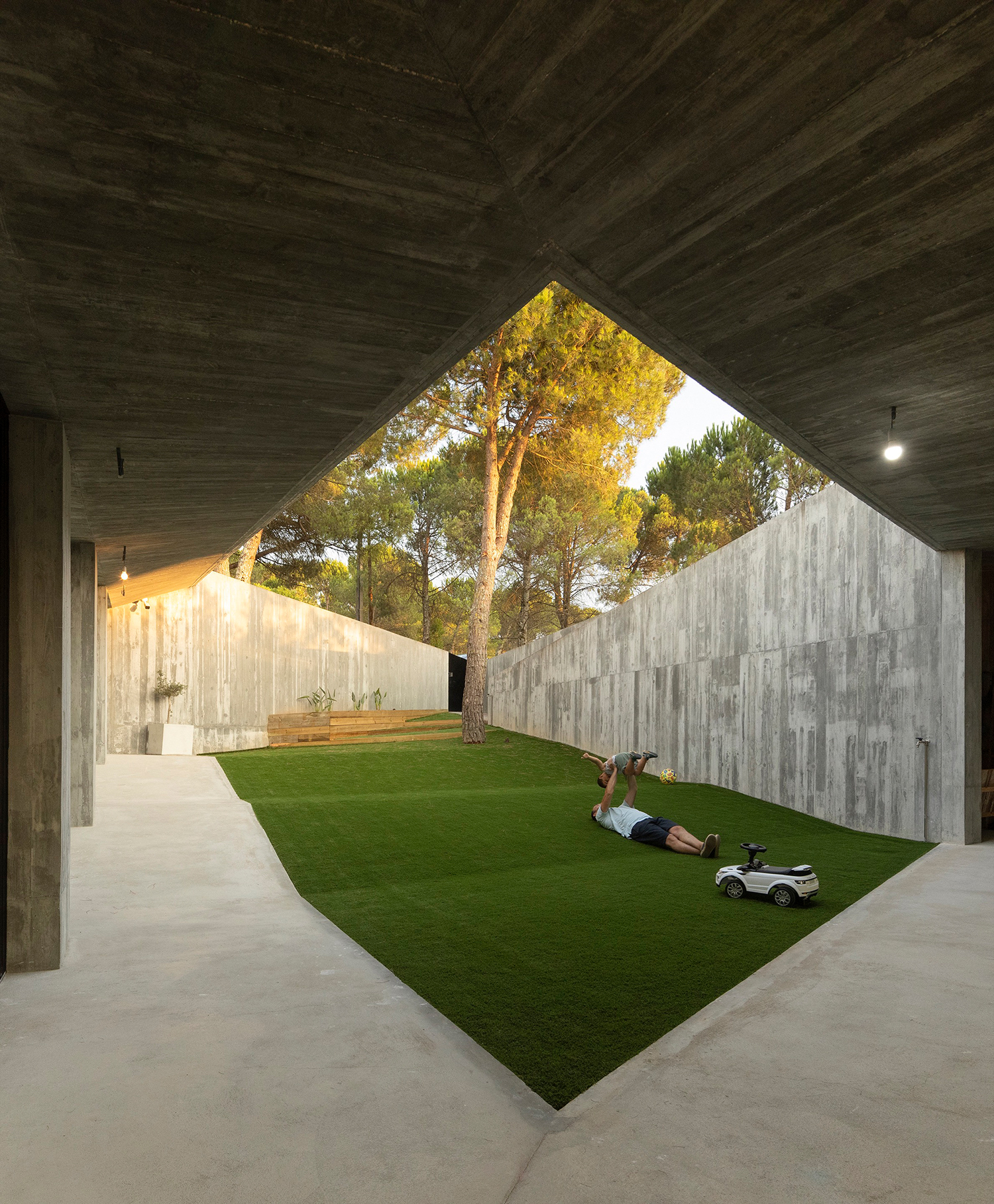 Rearrange Things So the Kids Are Always in View
You don't have to constantly hover around your children in order to supervise them. Instead, set up conversational groupings of chairs on the patio so that everyone can see the children. You could also move the picnic table and grill so that people using them never have their backs to the play area.
If you don't already have a place for adults to sit and talk or read outside, bring in a few padded chairs and a table so you can do that. If you're constantly going inside, eventually, your children will follow.
Create a Kid-Friendly Obstacle Course
Another great thing you could do is turn part of your backyard into an obstacle course. You could start by taking cut logs to create stump steps. The steps should be two to ten inches tall, high enough to be a challenge but not so high that taking a tumble hurts.
Space the stumps far enough apart so that kids have to be careful as they walk across them. You can do something similar with flat wood pieces scattered about. Now the kids can play "the floor is lava" game outside. Furthermore, you can rearrange it as often as necessary to keep it interesting. Add extra tasks like ducking under a rod across their path to make it more challenging.
Create a Rock Spot
Little builders love having the opportunity to build, and the best way to nurture that builder side of them is with a designated rock spot. A rock spot is similar to a sandbox but uses pea gravel bounded by large border stones. You can have a single wooden plank at the end to help contain the gravel. The rock spot is better than a sandbox in that it doesn't become unusable after it rains. Nor do you have to build a permanent box to contain the sand. You can always use the gravel or rocks to create a pathway when the children tire of it.
Anybody can make their backyard more fun and interesting. All it takes is a little bit of motivation, imagination, and some elbow grease.