Found your dream home but the kitchens on the tiny side? Maybe you're been trying to think of ways to enhance your small kitchen for a while? 
The kitchen is the hub of any home, so it's a key room to get right. If you're looking for ways to make the space seem larger, read on. We've rounded up some ideas for you to try. 
All white then
While white can be intimidating – especially in a room where food may end up on walls – it's a great option if you want to make the most of natural light. White is the ultimate reflective colour choice, brightening up even the smallest of rooms. 
To keep things easy, go for a matching setup like a white shaker style kitchen. This creates consistency and opens up the space. 
A touch of gloss
Whether you go for white walls or you opt for classic neutrals, steer clear of matt effect paints or textures. Gloss finish paints and varnished countertops will reflect the light that comes in and work especially well when combined with light paint colours. 
Add a splash

 
A splash of colour can go a long way, especially if you're sticking to neutrals everywhere else. Add a vibrant yellow blind on the window to make the space feel warm and inviting, or be bold with a pop of pink – Pantone's Colour of the Year, Vivid Magenta, is the ideal hue to add some fun to your dinky kitchen.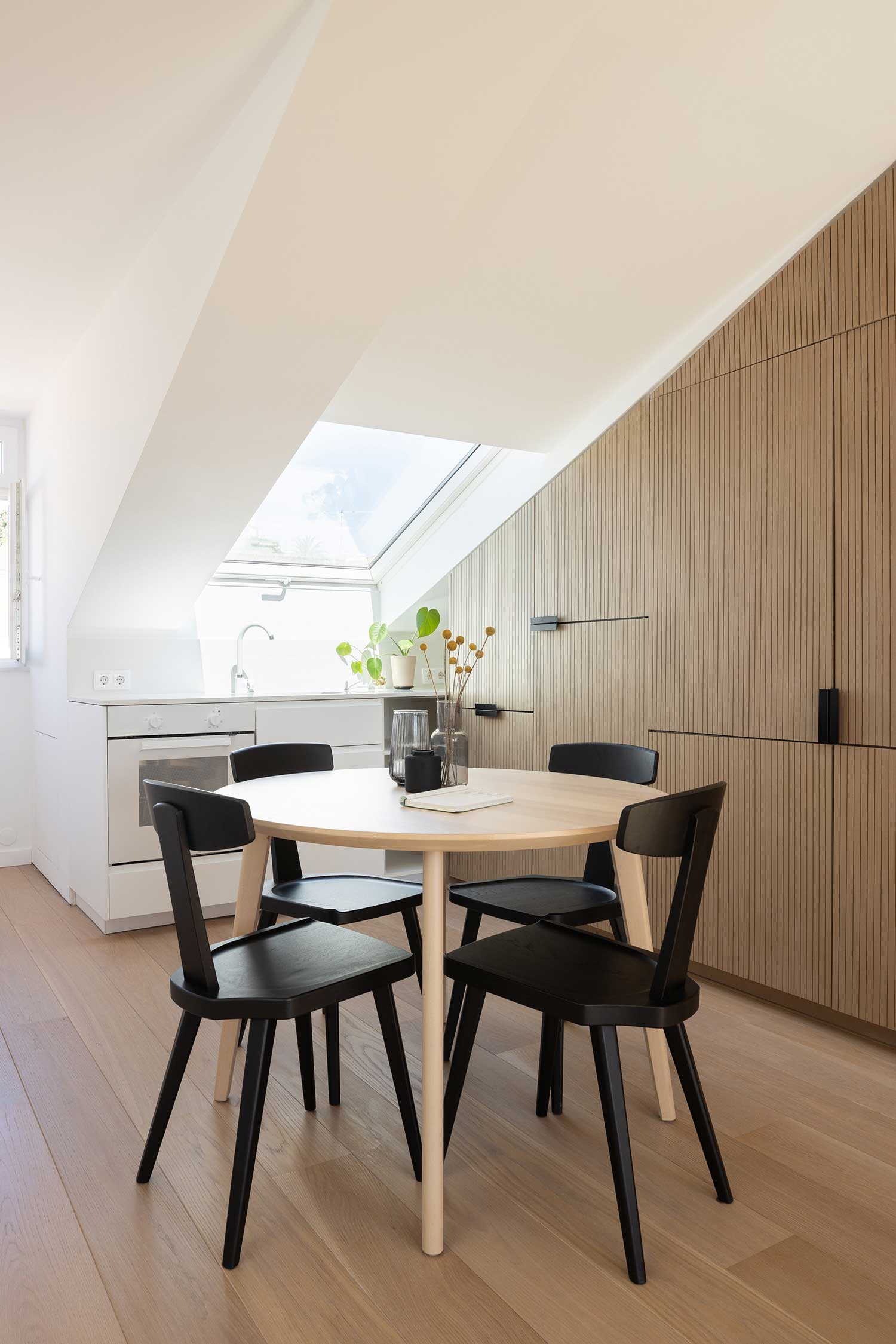 Think in thirds
That's not to say you can't have dark colours in a smaller space. However, if you're introducing darker colours, try to keep these to the lower third of your kitchen. This will keep things light and bright within your eye line. 
Light it up
The right lighting can totally transform a space. In small kitchens, it can be the element that brings everything together, shining on reflective surfaces and highlighting areas that make the room appear larger than it is. 
A well-placed table lamp can work wonders, while swapping out a single main ceiling light for spotlights will allow you to illuminate the kitchen, giving the illusion of space. 
Clear the clutter
If cookbooks are taking up the limited worksurfaces and other items strewn around, it can make a small kitchen seem crowded. Have a clear out, removing anything you're not using anymore, such as old crockery or cookware, and think about storage for what's left. 
One solution is to use the wall space. Hanging shelves, for example, will give you somewhere to stash your cookbooks, while racks can be used to hang pots and plates. 
What tricks will you use in your tiny kitchen?