One of the most popular additions to any home is a deck. However, this feature can quickly become high-maintenance and even dangerous if poorly built. Common issues that arise over time are sagging, mold, and rot. Is this the final result you want to look at after investing so much time and money into creating a beautiful home-bound retreat?
The good news is that you don't need to replace or renovate these structures every decade and can build them to last with the right materials and installation techniques. So, before you begin construction, keep the following seven tips in mind to get the most longevity out of your new deck.
1. Allow Deck Framing to Breathe
You've probably noticed how some decks are directly attached to the home by cutting away the siding and anchoring the frame. This method helps trapping moisture that can cause mold and rot damage to your home and the deck framing. 
Sealant and flashing won't stop water from getting into this space and can eventually make your home's wall and deck frame unstable. Your custom deck builder will avoid this situation by installing foundation piers right by your home and then building up to your desired entryway. A quarter-inch gap is left between your siding and deck frame to allow drainage and airflow to help this space remain dry, preserving structural integrity.
2. Wood Decks Need Durable Lumber
Wood is a beautiful material to create a deck out of, but you'll need to ensure that you choose lumber that can withstand the elements. Even if you plan to enclose this area, temperature and humidity can wreak havoc by causing planks to swell and trap moisture. When deciding on which wood type to use, the below wood types are naturally resistant to pests and rot:
If you're on a budget, your best bet is pressure-treated spruce which has been chemically treated to resist rot, though this barrier will wear down over time. 
3. Ensure Wood Decking Can Breathe
Despite building a deck completely out of cedar, it can't dry out, and rot will inevitably occur. When constructing your deck, installing beams flush with their joists will trap moisture and prevent crucial airflow, which leads to mold development. 
Minimize these touchpoints by leaving gaps between these connections. All it takes is a small quarter-inch space to allow rainwater to wick away and let air dissipate moisture. In addition, this technique will maintain the stability and strength of your deck because of the poured foundation piers and beams holding it all together.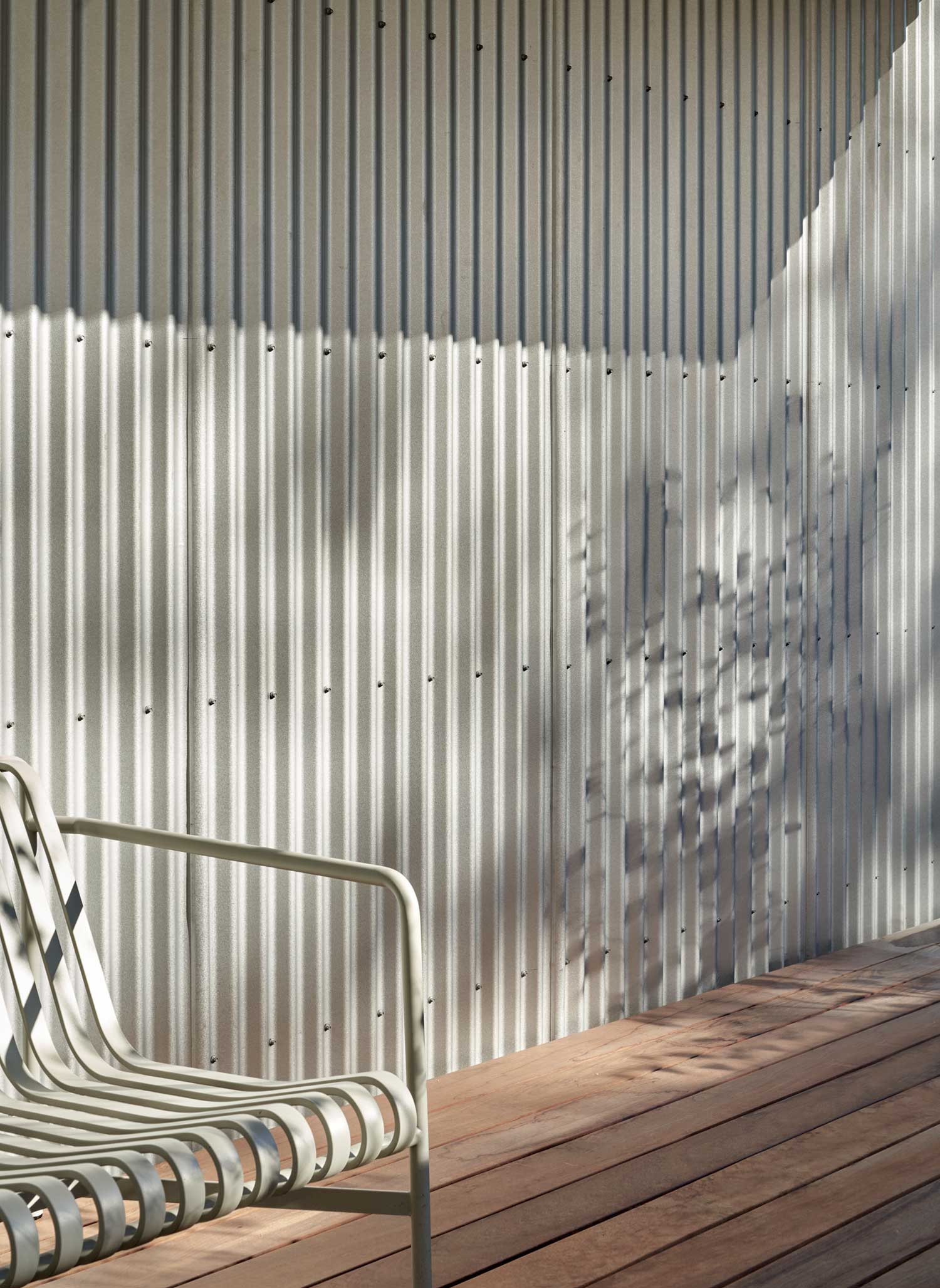 4. Combat Rust with Stainless or Galvanized Hardware 
Your deck will require quite a few fasteners on its surface which will be exposed to the elements. The last thing you want is a rusty nail or screw jutting out and potentially injuring your feet. Because of its rust resistance, you can minimize this risk by using hardware made from stainless or galvanized steel. Another tip to avoid rusty fasteners on your deck surface is to choose nails or screws that have a polymer coating instead of zinc to increase durability.
5. Invest in Composite Decking
To truly get the most longevity out of your deck, consider using composite materials instead of wood. While it may not have the same wood grain appeal as natural lumber, it requires less maintenance, doesn't splinter, is rot-resistant, and won't require refinishing. These benefits easily justify the higher price because of the time and money you'll save on future maintenance.
Even better? Some composite brands have invisible fastening options that mean no nail or screw heads covering your deck's surface. You'll love the continuously smooth feel under your toes every time you walk on this material.
6. Ensure Water and Moisture Can Escape
Not just your deck's framing needs to breathe to avoid sag, mold, and rot. Regardless if you're using natural wood or composite planks, leaving space between is vital to the lifetime of your deck. In addition to wicking away unwanted rain and moisture, eighth-inch gaps make it easier to clean away trapped dirt.
7. Put a Roof on It
Adding a roof to your deck minimizes rain and snow exposure and protects its surface from harsh sunlight. This is a popular option because it allows you to create an outdoor living space with indoor comforts. You'll also love being able to enjoy this area year-round with friends and family. 
Conclusion
Adding a deck to your home comes with many benefits, including curb appeal and added functionality to your living space. However, these structures can become high-maintenance if built with overly cheap materials or poor planning. It's common for homeowners to renovate or completely replace their decks after a decade because of mold and rot creating instability. 
Fortunately, you can extend the lifetime of your deck by investing in quality materials and working with a reputable deck builder that understands how to mitigate these risks.