Ikea continues the quest to make great art accessible to everyone. This year the Swedish furniture giant asked eight contemporary artists, with different artistic expressions, to each design a rug.
The result? A limited-edition collection of handmade off-the-wall art pieces.
What happens when you mash up age-old tapestry and rug techniques with the worlds of avant-guard fashion, tattoo art and sculpture? The rugs making up this year's edition of Ikea Art Collection offer eight different answers – and eight very different ways to personalize your space.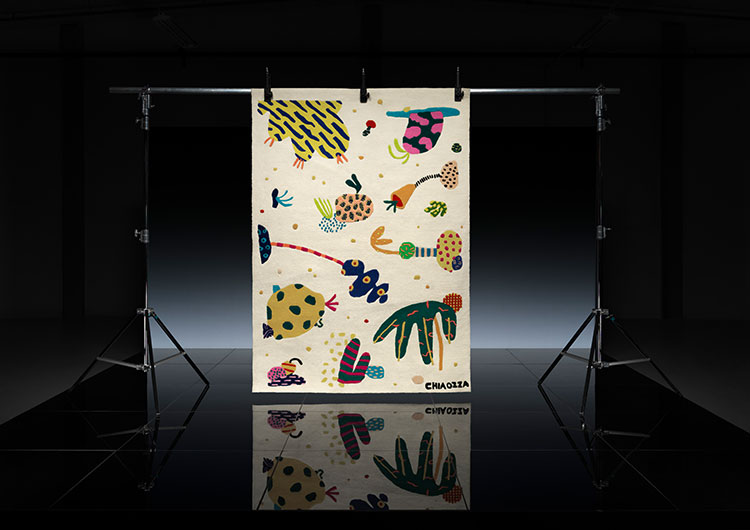 "These are rugs that will become exclamation marks in the home, whether you walk all over them, hang them on a wall or make them your own any other way", says Henrik Most, Creative Leader for the upcoming collection.
He is happy with the variety of expressions which he hopes will appeal to many: "Looking back, rugs have a long tradition of being perceived as art rather than something we primarily choose for their function. This collection gave us the opportunity to explore the traditions and place them in a modern context."
A closer look at each rug reveals great craftsmanship. All are handmade in wool and natural materials. That means that no two are completely identical. "There are tiny, natural imperfections that give each one a unique expression", says Henrik.
Japanese Misaki Kawai is one of the participating artists. Her contribution is a playful color burst in the shape of an animal family. Different pile heights make you want to cuddle the fantastic cats, and so the rug is as much of a tactile experience as a visual one.
"I don't like rules — I play around with materials and simple shapes and add some nice to it. I think keeping it simple adds mystery – anyone looking at the piece can start to wonder about it", says Misaki.
Virgil Abloh, American designer and founder of streetwear brand Off-White, has made something else completely. His monochrome, graphic interpretation of the traditional oriental rug is defined by a simple statement: "KEEP OFF".
"I wanted an ironic take on the traditional attitude to furnishing where the living room is just a showroom, not somewhere you sit. I think the parental "don't ruin the furniture" kind of thing has really impacted how younger people think of furniture today", Virgil says.
Ikea Art Collection will be available for a limited time starting in 2019.