French design agency ubi bene has collaborated with Airbnb to realized an underwater bedroom in the shark tank of the Aquarium de Paris.
Ever gaze into an aquarium and wonder what it's like to live under water? Imagine yourself submerged in three million liters, in an aquarium ten meters deep, alongside 35 of the most majestic creatures on Earth: sharks. Experience what it's like, even for a night, to live amongst these feared creatures. This is your once-in-a-lifetime opportunity to sleep in a underwater bedroom, where the only thing separating you from your neighbors is the 360-degree transparent wall.
On April 11th, 12th and 13th, the Aquarium de Paris will host the first-ever sleepover in its shark tank. Your home for the night is unlike any other ever built: a peaceful enclosure with a large cylindrical bed and breathtaking, immersive views of your new sharp-toothed friends.
Three lucky winners and their guests will be welcomed by host, Fred Buyle, a world record-breaking freediver, underwater photographer, and shark enthusiast. He'll dance alongside the sharks, the ideal introduction to your neighbors for the night. Once you're settled, Fred and a marine biologists will guide you on a tour through the aquarium, and provide an exclusive behind-the-scenes glimpse into the world of sharks: how they live, why they're so misunderstood, and their importance to the ocean's ecosystem.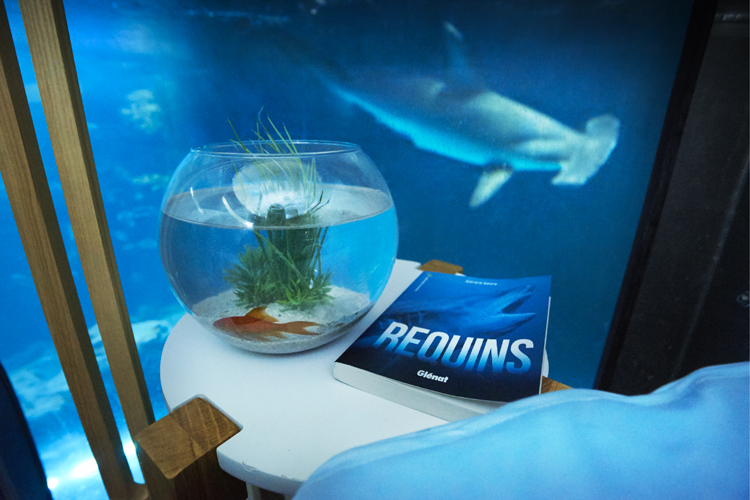 Interested participants can apply by submitting a proposal as to why they are the ideal candidate for the underwater adventure. following the departure of the last Airbnb guest, the room will continue to serve as an observation area for biologists and scientists.
Opened in 1867 and located in front of the iconic Eiffel Tower, the Aquarium de Paris was the first built anywhere in the world. In February, the Art Institute of Chicago paired up with the lodging site to offer stays in a replica of Vincent Van Gogh's famous bedroom during its "Van Gogh's Bedrooms" exhibit.
all images courtesy of Airbnb