Interior designer Stephanie Coutas transformed this elegant Haussmannian apartment in the eighth arrondissement of Paris into a modern and refined pied-à-terre. An American New York-based actress commissioned Stephanie Coutas to design a pied-à-terre with the "spirit of Paris" whilst also incorporating the type of 'luxury hotel look' that she is accustomed to.
And so, Coutas designed a light-filled, cosy setting to resemble a luxury hotel suite for the 215 sqm space nestled in one of the swankiest areas of Paris: the Golden Triangle between the famous Avenue Montaigne and Avenue Georges V.
The interior designer has completely made over the chic and contemporary apartment by gently phasing out the Haussmannian side of the building without destroying its soul. She focused on comfort, for example by putting bathrooms in each of the four bedrooms and decorating everything in a classic and sophisticated style. "We entirely redesigned the volumes," she says, "and reworked the pathway and lighting. We also designed most of the furniture so it didn't conform to one single style. That's why we went bargain-hunting for works of art, bought photos by Elodie Lachaud and Lumas, and added bronze vases by Tom Dixon, paintings by Rico and portraits of film stars such as the Audrey Hepburn in one of the bedrooms – a nod to the lady of the house's profession."
Famous for her prestigious projects imbued with strength and femininity, Stephanie Coutas has applied her signature looks here: graphic effects (e.g. the marble flooring in the hallway), soft colour ways, pale oak parquet, white walls and marble dust in the hallway, and taupe fabrics dotted with vibrant colours such as the stunning ice blue adorning the velvet sofas from Luxury Living. Sophisticated details also feature in the designer's artistic vision in the form of embroidered leather, varied textures created with matte and shiny fabrics, leather wall panels in the living room, and so on.
And to bring the pied-à-terre into the 21st century, the interior designer collaborated with some of the best names in interior décor, with whom she works continually: Larsen, Rubelli and Lelièvre for curtains and fabrics, Tai Ping Carpets that she designed herself, Pouenat lighting, and Bisazza mosaic tiles whose iridescent gleam adorn the bathroom walls, arranged alongside other unique pieces that embody her work.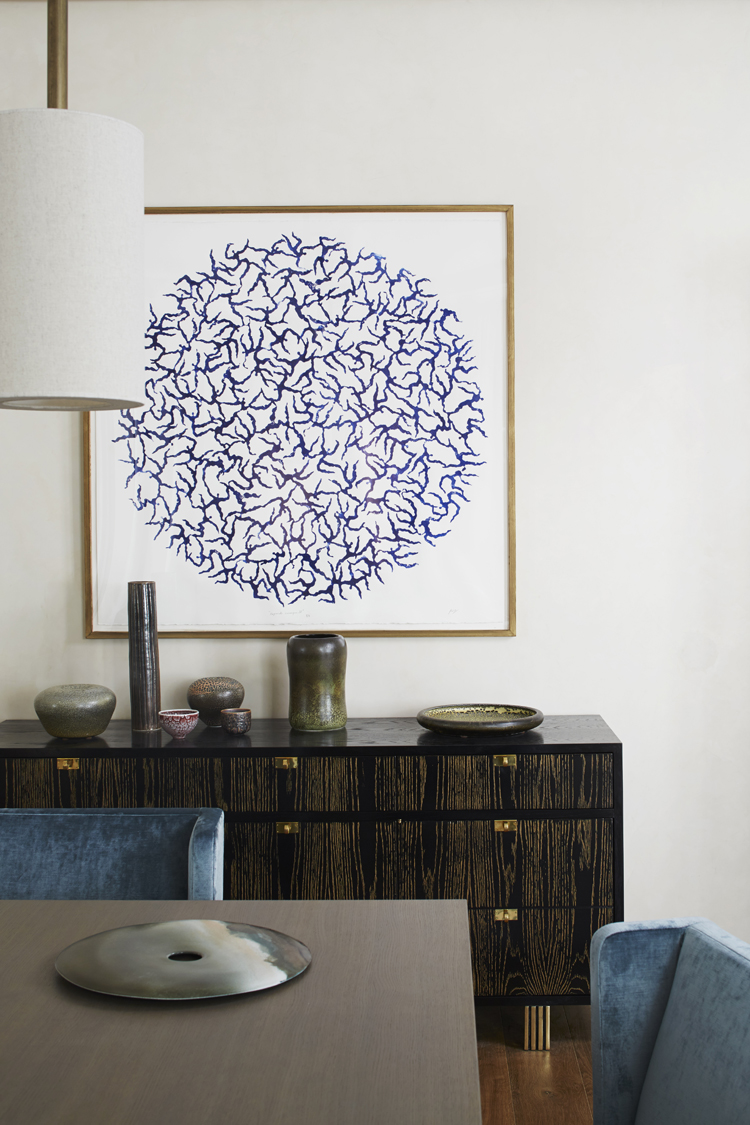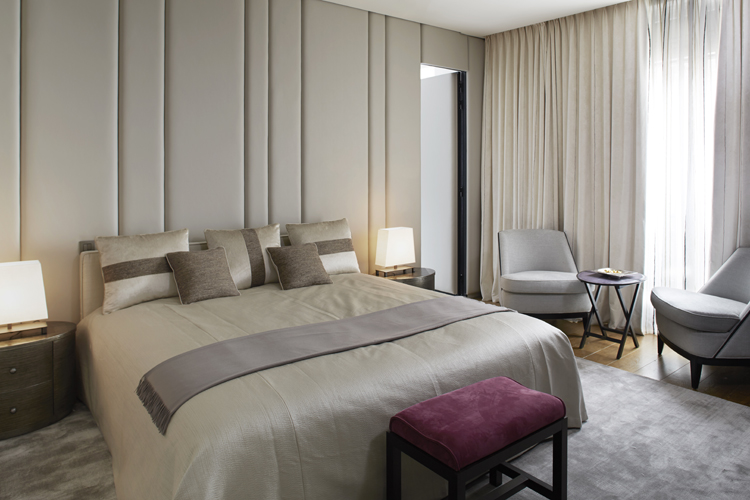 all images © Elodie Lachaud / courtesy of Stephanie Coutas